Skip Navigation
Website Accessibility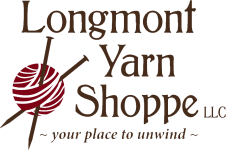 303-678-8242
454 Main St., Longmont, CO 80501
View Cart

Hours
Monday - CLOSED
Tuesday - Thursday 10- 5 pm
Friday 10 - 6 pm
Saturday 10 - 5
Sunday 12- 4 pm
View Holiday Hours
Welcome to the Box of Hope with Longmont Yarn Shoppe 2023!!
What is a Box of Hope?
We all could use some extra hope and love these days, and there's no better way to bring it than through our beloved craft projects made even better when they make a positive impact in the lives of others! With the Box of HOPE, you can make a difference in the world by supporting Handspun Hope—an organization committed to providing living wages for women artisans in Rwanda.

Within each of our 3 box options you'll find 3 gorgeous skeins of handspun Ethiopian cotton yarn dyed naturally by the women of Handspun Hope with plant dyes sourced in Rwanda. Included is your choice of one of three shawl patterns from knitwear designer Bristol Ivy - ideal pairings with this stunning handspun cotton. Choose from Rillmark, Aubade or Fledgling for your perfect Handspun Hope Shawl!

And included exclusively: A delightful felted ornament crafted lovingly by members at Handspun Hope, plus their signature Hello Hope project bag to carry this and any future projects you embark on! You won't want to miss out on something so meaningful, making a difference in the lives of these women. All this is found in Esther's Box of Hope.

Make a powerful difference and select Virginie's Box of Hope - containing items chosen to shine light on hope, strength and perseverance. This special box comes with everything mentioned above PLUS an alluring Olive Wood Shawl Stick from Rwanda – symbolic of wisdom, prosperity & longevity as the Olive Tree is known to live up to 600 years! Enjoy pairing the shawl stick piece with your handknit cotton shawl for added flair. We've also included some delicious Lift Chocolate crafted right here in Boulder County!
Make an even greater impact this year! Select Grace's Box of Hope and show your support for these incredible women. You'll receive everything in the boxes described above, plus a skein of Handspun Hope Organic Worsted Merino to create cozy mitts with Bristol Ivy's Harpswell Hat & Mitts pattern. One skein will make the hat or the mitts - perfect accessories during cold winter days! You will also receive a handmade Kitenge Bag from Kigali, Rwanda made by none other than the undeniably impressive entrepreneurial spirit: Grace herself who runs her own business making beautiful garments out of colorful fabric. Let's stand up together and give hope where it is needed!
By joining us in the 2023 Box of Hope, you'll be part of something truly amazing. We are striving to empower women - and their families – by providing them with a meaningful job that brings both financial stability and an incredible sense of purpose. Our donation will provide for Handspun Hope's lifesaving actions; it's your chance to help make real differences!


One month of running water

One month of health insurance for a woman and her family

One day of staffing for the sheep farm

One tank of fuel for dyeing yarn

One trimester of school fees for one dependent child

One month's salary for a rabbit caregiver

It's all about creating community...
Diana Wiley, the founder of Handspun Hope, will join us via Zoom on Wednesday March 22nd to share the story and mission of the Handspun Hope organization.

This 90 minute gathering will begin at 8 eastern, 5 central, 6 mountain and 5 pacific and will be recorded for viewing up to 1 week after aired.


Bristol Ivy, the designer of the two knitting projects included, will join us via Zoom on Wednesday March 29th to talk about the designs included in the 2023 Box of Hope and share a bit about her passion for making the world a better place through crafting and community. We might even get to meet her cat!

This 90 minute gathering will begin at 8 eastern, 5 central, 6 mountain and 5 pacific and will be recorded for viewing up to 1 week after aired.
This is an exclusive offer – we have limited boxes in each tier available - order early to ensure the color and box of your choosing.


Got Questions?
Check out the FAQS below – we may already have the answers!
The Handspun Hope initiative envisions entire communities freed from poverty.

Diana Wiley
Founder of Handspun Hope

Bristol Ivy

Bristol Ivy is a knitting designer, teacher, and author from Bangor, Maine. Her work has been published with PomPom Magazine, amirisu, Quince & Co.,Making Magazine, and her own eponymous pattern line. She has taught at such events as Squam Art Workshops, Edinburgh Yarn Festival, and Vogue Knitting Live, as well as yarn shops worldwide. . When not knitting, she's sewing, running, watching far too many British murder mysteries, and baking a mean loaf of oatmeal honey bread. Find her online at bristolivy.com and on Instagram and Twitter as @bristolivy


Box of Hope FAQ
When will I get my Box of Hope?
Your Box of Hope will be ready for you to pick up or can be shipped to you after March 10th.


Will I get a new box every day in March?
You will get one box that you are invited to open immediately and cast on the project of your choosing, not a new box each day.
Is this like a Mystery KAL?
No, you'll have yarn and either one or two patterns based on the tier you choose from the get-go. All patterns are designed by Bristol Ivy, who will join us during one of two online gatherings for the Box of HOPE.


How will I get my patterns?
When you place your order please write in the order notes which of the 3 pattern options you would like and your Ravelry name. If you do not use Ravelry we will send the pattern to you electronically via email.

What are the dates of the Zoom gatherings?
Wednesday March 22nd at 6:00 PM Mountain Time with Diana Wiley
Wednesday March 29th at 6;00 Mountain Time with Bristol Ivy
I'm a beginner – can I do this?
Yes! If you can knit and purl, and read a pattern, you can do this! There may be some new stitches, but we're here to help.
I crochet – can I still participate?
Of course! We have found 3 patterns on Ravelry that you can choose from - just let us know which one you like and your Ravelry name on checkout and we'll make sure you get it! We welcome you!

Easy Peasy Posy Shawl
Wrapped Up in You
Sunset Beach Shawl
How can I get my Box of HOPE?
You can order your box right now by ordering online here, calling with a credit card or in person at the shop. Keep in mind that there are limited boxes so order soon to secure yours.
What if I can't pick up my Box of HOPE?
Let us know and we'll make arrangements to ship it to you after March 10th.
If we missed your questions, give us a ring or pop by for an answer!