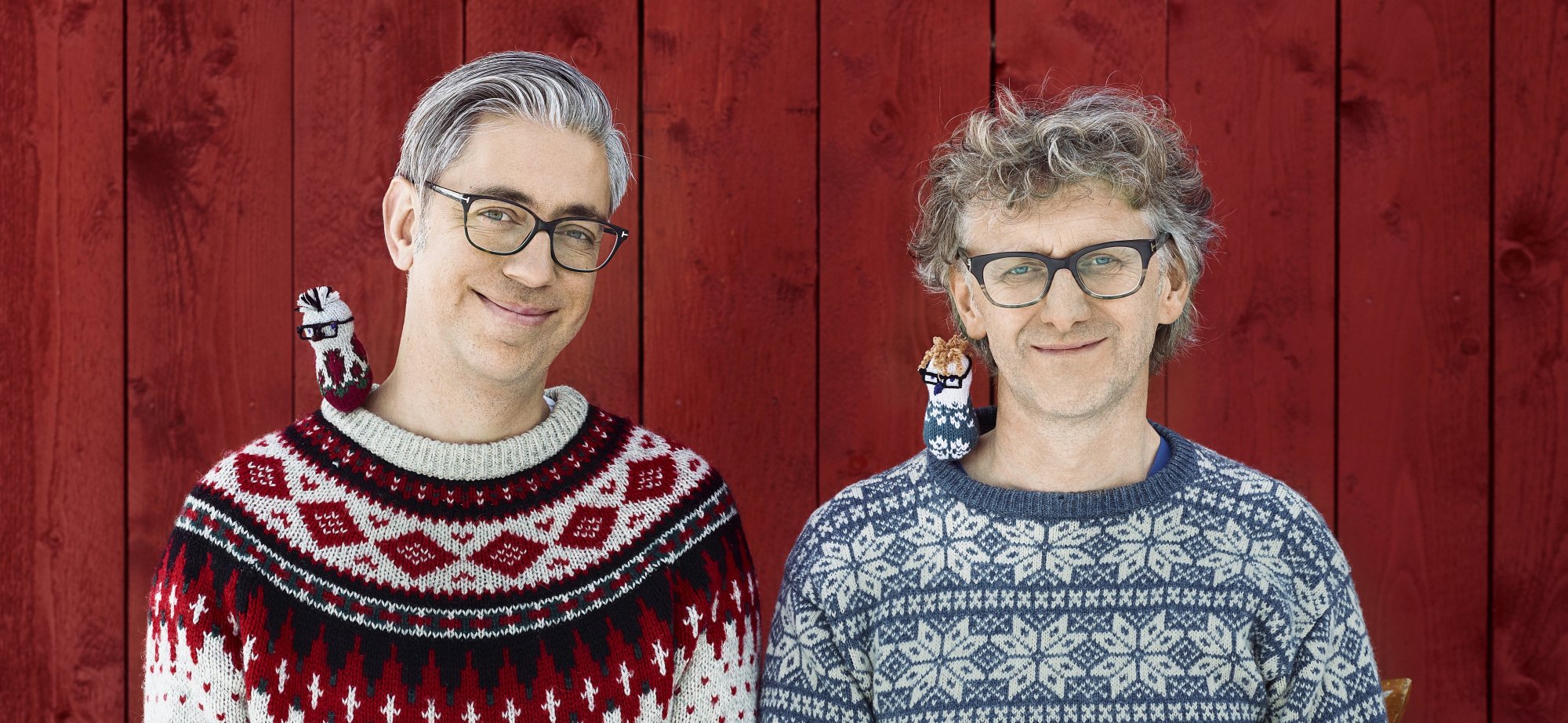 Tuesday evening Lecture: The world of ARNE & CARLOS

Scandinavian design superstars ARNE & CARLOS have gained a passionate international following, not only through their work with well-known names such as Comme de Garcons, Urban Outfitters, Dale of Norway, Regia and Rowan but also their nine bestselling instructional books and numerous online tutorials. It is in their books and videos that we are warmly welcomed in to their vibrant, colouful, creative world which is based in a renovated train station in the Valdres region of Norway, north of Oslo. Here we see glimpses of the eclectic collections of memorabilia, the rich variety of materials and patterns, the natural elements outside and homey comforts of inside that spark their ever-active imaginations. These are the sources or their hugely popular handcraft designs, which reflect their enthusiasm for finding new ways to value the old , as well as their commitment to developing innovative ideas that are wholly their own. In this engaging lecture, ARNE & CARLOS speak frankly about the way they live, and how everyone of us can be inspired by the everyday things that surround us. Learn how to create fabulous, unique knitting and crochet designs as well as other projects using their unique lifestyle techniques and walk away feeling energized and finally ready to bring your own original ideas to life.

Photography: ARNE & CARLOS/Ragnar Hartvig




Wednesday classes:

New Nordic Knitting - An Introduction to Norwegian Stranded Colour Work

Norwegian stranded colour works is all about tension. In this class, you will learn the basics of Norwegian style stranded knitting with 2 colours from expert Nordic knitters ARNE & CARLOS, who will show you the easiest and most relaxing way to hold the needles and the yarn, and teach you important techniques and tricks that will help you achieve perfect tension while keeping all of your stitches even and beautiful, in true Norwegian style! We will work with bulky yarn and thick needles and practice our colour works techniques while knitting a hat with the traditional X and O pattern, which is the easiest Norwegian pattern that you could possibly work with. Whether you are an inexperienced or experienced knitter, if you have ever wanted to learn how to knit stranded colour work as it is done in the Noway and the other Nordic countries, by mast knitters who come from that part of the world, this class is for you!

Materials: 2 balls of Rowan Cocoon: 1 ball (100 gm) in colour #801 Polar and 1 ball in colour #813 Seascape
Needles: 1 standard circular needle 16 inch size US 10, 1 standard circular needle 16 inch size US 10.5, 1 set of 5 DPNs size US 10.5
HOMEWORK: With smaller size circular needle and colour # 801 Polar, CO 64 sts. Join and workaround in K2, P2 Ribbing for 10 rows.

Important note: We will be focusing on stranded colour work techniques, so please do not expect to finish the entire hat in the class, as the hat itself may take longer than 3 hours to complete. However, ARNE & CARLOS will give you lots of tips to take home with you, so you can finish later.




New Nordic Christmas Ball "The Squirrel"

Christmas is a special time for those who live in the north. Winters are dark and cold, so people spend a lot of time sitting by the warm stove with some handwork. ARNE & CARLOS have a particular weakness for that time of year. With techniques, patterns, and sources of inspiration fondly shared by the designers, ARNE & CARLOS will outright charm you! Their knitting antics are the perfect recipe for holiday decor that is colourful and festive, whatever your skill level.

Materials: ROWAN Alpaca Soft DK 1 ball in colour #201 simply white and 1 ball in color #206 deep rose.
Needles and Hooks: 1 set of DPNs size US 3 and 1 crochet hook size US D-3mm

Very important note about needles: Choosing the right yarn and tools for any project is an essential! For those participants with little or no experienced knitting with DPN, we strongly recommend bring wooden or bamboo needles. Pleas do not bring metal or carbon needles if you have never used DPNS before.

OTHER supplies for Christmas Ball: Wool or Acrylic stuffing.
Homework: None.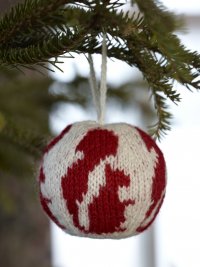 | | |
| --- | --- |
| Skill Level: | beginner |
| Skill Details: | Students should be able to knit, purl and decrease to do the hat, and for the Christmas ball, students should know how to knit. |