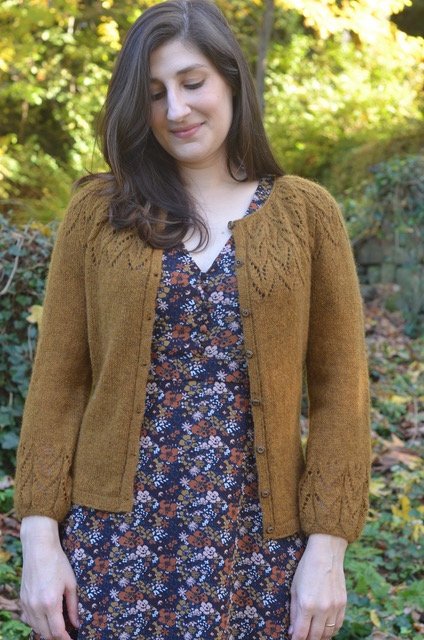 Sweater patterns contain all of the information you need to complete your project and yet no pattern can tell you all of the tiny little things an experienced knitter will do in the course of knitting a sweater, everything from how loosely to cast on, to how to keep track of your lengths, to exactly how to how to bury your yarn tails.

Join designer and instructor Sarah Solomon for this sweater-knitting companion class featuring her top-down yoke cardigan pattern, Wild Almond, and learn to get the most out this (or any) sweater pattern. The aim of this class is to demonstrate all of the techniques used in the pattern as well as to answer some of the more over-arching questions in sweater knitting concerning sizing, ease and customization.
In order to cover all of the techniques everything will be demonstrated on an action-packed swatch; since everyone knits at a different pace, knitters may choose to cast on the sweater and use the swatch during class time or to simply work the swatch and cast on for the sweater after you have learned all of the techniques. See the detailed class list below for what will be covered in each session.
Wild Almond features top-down yoke construction, lace charts, short-row shaping, 2-stitch i-cord edgings, a double-knit hem and its own tutorial for a double-knit buttonband with self-reinforced buttonholes that is joined to the finished sweater without any sewing. This pattern is knit at a relaxed gauge using a lace-weight yarn to achieve a sweater fabric that feels lighter-than-air, while the construction method ensures that the final garment will hold its shape. The pattern also provides shaping options for both body and sleeves to achieve your preferred style and fit. This is a delightful, lightweight project that makes for pleasant springtime knitting and results in a year-round layer of warmth.
Session 1:
· Overview of the pattern
· Lace charts
· Yarn choice/working with yak fiber/how yarn substitution affects your project
· Planning ahead when making sweaters (overall shaping, adjustments, adding structure with a phoney/basted seam)
· Keeping track of lengths
Session 2:
· Short rows: alternate methods, how do they function, how to keep track; how they work in this pattern
· Customizing yoke length/sleeves and body shaping
· Working the phoney seam and basted seam
· Sleeves first or body first?
· Double-knitting for hems
Session 3:
· Double knit buttonband and buttonholes
· Finishing
· Wet-blocking and using blocking wires

SCROLL DOWN FOR HOMEWORK details.

Pattern: Wild Almond on Ravelry

Suggested Yarn: mYak Baby Yak Lace

Alternatives: Amble by The Fibre Co., Fino by Manos del Uruguay, Shibui Pebble

Please note- if there is a colorway in the above yarns you would like us to order please reach out and let us know. Allow time for shipping/delivery and know that some yarns are backordered or difficult to secure during the pandemic.
Needles: Main Fabric - US 4/3.5mm 32" circular and DPN's, Hem - US 3/3.25mm 32" circular, Buttonband/Stitch Pick Up - US 0/2.0mm 32" circular
Notions & Tools: Spare circular or DPN in same size as Main Fabric needle, Stitch holder or waste yarn, stitch markers, coilless safety pins, tapestry needle, Crochet hook (2.0mm)
Buttons:
8 – ½" buttons or desired number (pattern is customizable)
Backing buttons – same number of a similar size
Smaller blunt needle and DMC thread, thin silk or wool yarn

HOMEWORK before 1st class:
Using the Longtail Method and size US 4/3.5mm needle, cast on 36 sts.
WS: K1, purl to last st, K1.
RS: Knit all.
Repeat these two rows until piece measures about 6" long. Bind off all sts. Wet-block the swatch per pattern. When it is completely dry measure your stitch and row gauge over 4" of fabric;record these numbers and bring them to class.
If your gauge numbers do not match the pattern gauge you may wish to do a second swatch: if you need MORE sts per 4" then use a SMALLER needle, if you need LESS sts per 4" then use a LARGER needle. If you have questions about gauge, we will address them in class.
| | |
| --- | --- |
| Skill Level: | Intermediate |
| Skill Details: | Intermediate This is not a 1st sweater class. This class is geared to the knitter who has made at least one sweater and wants to learn design and finishing skills along with tips & tricks to complete garments with professional finesse. |
| Requirements: | Yarn must be purchased from Longmont Yarn Shoppe to participate in this class. Students enjoy a 10% materials discount. Use Code WILDALMOND10 at checkout to save 10%. |
| Instructor: | Sarah Solomon |
| Instructor Bio: | Sarah Solomon is a knitwear designer, writer and teacher based in New York City. She learned to knit as an adult and remembers the frustrations of the learning process and loves helping people improve their knitting skills and explore new techniques. She enjoys teaching traditional techniques of all kinds as well as modern garment construction with a particular emphasis on details and fine finishing. She is an avid sewer and spinner and loves handwork in many forms. In her design work, Sarah creates knitwear from exceptional yarns that are knittable, wearable and designed to last. Her patterns and articles have appeared in Interweave Knits, Knitscene, knit.wear, Pom Pom Quarterly, and Vogue Knitting, and in collections by yarn companies large and small. In addition to her self-published work she is the head of knitwear collections for Harrisville Designs and has recently joined the editorial team of Vogue Knitting. |