In this workshop, you'll learn how to work Latvian braids and multiple variations using the technique: braids with long floats, clumps of braids, multiple-color braids, dense layers of braids, and a twisted two-color cast-on. You'll leave the workshop with a host of techniques and inspiration for braiding!
Skills needed: Knitting, purling, knitting in the round on a circular needle, basic stranded knitting (knitting with two colors per round)
Techniques covered:
• Twisted two-color cast-on
• Braids!!! SO MANY BRAIDS!
Materials needed:
• US Size 6 16- and 24-inch circular needles
• One stitch markers
• Worsted-weight yarn in five colors, approximately 100 yards of each. You can mix and match.

We've created 2 kits at LYS that contain 1/2 skeins of Malabrigo Rios - so soft around the neck and perfect for this project.

Visit the website HERE to purchase your kit- and use code STUDENT10 to save 10% on your purchase.
different worsted-weight yarns if you like!
• A copy of the pattern Braid-o-Rama (available for purchase online through Ravelry for $6)
Homework: Cast on for your cowl using the twisted two-color cast on. Here's a photo tutorial for how to work the cast on.

This is a a LIVE ZOOM event. Your ZOOM link and any handouts from the instructor will be emailed to you the evening before class. If you do not see the link please check your spam filter.

Class Start Time: 6PM Eastern, 5PM Central, 4PM MTN, 3 PM Pacific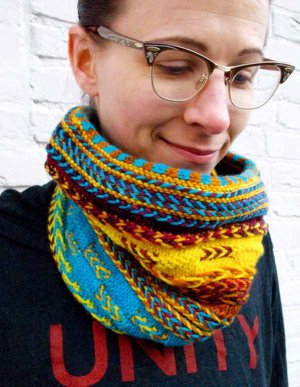 | | |
| --- | --- |
| Skill Level: | Intermediate |
| Skill Details: | Skills needed: Knitting, purling, knitting in the round on a circular needle, basic stranded knitting (knitting with two colors per round) |
| Instructor: | Ann Weaver |
| Instructor Bio: | Ann Weaver combines her love of knitting, her passion for creative reuse and thrifting, and her love of mending to provide us with techniques for saving or repurposing our beloved handmade and ready-wear knitwear. With the current trend to use what you already have and fix what?s broken, all the while rejecting the notion that newer is better, Ann will share examples of her altered and mended knits and demonstrate two methods of darning holes using simple tools. Darning can keep your beloved knitwear in service for years to come, and Ann hopes to inspire you to give new life to worn or thrifted textiles, perhaps in the form of a pincushion, a pillow, or some other use! |