Skip Navigation
Website Accessibility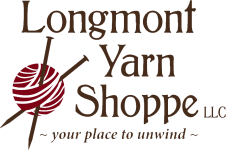 303-678-8242
454 Main St., Longmont, CO 80501
View Cart

Hours
Monday - CLOSED
Tuesday - Thursday 10- 5 pm
Friday 10 - 6 pm
Saturday 10 - 5
Sunday 12- 4 pm
View Holiday Hours
Event Details
Casual Crochet 1st Wed of each month

When:
Sep 6, 2023
From 11:30 am to 1:30 pm
Where:
Longmont Yarn Shoppe

Details:

Do you love to crochet? Are you looking to meet other folks that enjoy crochet? Come join our relaxed Casual Crochet group on the First and Third Wednesdays each month (and the rare Fifth Wednesday when the calendar falls that way). Every level of crocheter is welcome to join the fun!

This group is facilitated by Andee Graves and meets from 11:30 a.m. to 1:30 p.m. During the cold season we meet in the back of the shop in our class room, feel free to stop by and bring a crochet project to work on and any finished projects you want to share.

Once the weather warms up in May we are just a few blocks away along the 5th Avenue side of Thompson Park. Everyone brings a comfy chair and we make a big circle under the shady trees. If the weather doesn't cooperate we head back to the shop.

If you want to get on the Casual Crochet email list to be notified of weather changes and reminders of our meetings, please reach out to Andee at Mamas2HandsDesigns@Gmail.com with "Casual Crochet" in the subject line.



We have some exciting events coming up at the shop. March is National Crochet Month and the Casual Crochet group is going to Yarn Bomb the tree in front of the shop. Our schedule of 1st, 3rd and

5th Wednesdays

works out that we will be at the shop on

March 1.

So we will do the installation of the yarn bombing on

March 1.

I'm hoping everyone can bring squares and fun crochet pieces to use for the yarn bombing. We will work on assembling them into a larger piece to attach to the tree at the Casual Crochet meeting on

February 15th.

Don't worry if you can't make either of these meetings. You can still help out by dropping off your crochet bits for the yarn bombing at the shop, up until

March 1.

If you are having a hard time deciding on some fun motifs to make for the yarn bombing I have included links to some free patterns on my blog.

This pattern includes a Stitch Chart coloring page.

This pattern also includes a Stitch Chart coloring page. To make it a flower work the first round in a center color, then the 2nd round as your "petals", then rounds 3 & 4 are your "leaves". Or just stop at the end of round 2 for stand alone flowers.

Other ideas for the yarn bombing are squares of any stitch pattern, lacy or solid. And of course the classic granny square is also welcome.