Details:
Join us at LYS for a month long Trunk Show featuring GIST Yarns woven sample swatches, pattern inspiration and Lookbook ideas! During the month we'll take special orders on any and all of the GIST Yarn Collection and place the order February 1st! GIST fulfills orders quickly so we expect to fulfill your order within 7 days of being submitted to GIST and you can start weaving or use the yarn for any number of other projects that you choose!

GIST has a wide variety of weaving patterns that are complimentary with the coordinating yarn purchase, and other patterns are available for a nominal cost. Let's get weaving with GIST Yarns!


Beginner Rigid Heddle Collection - Set of Three Patterns
Designed by Emma Rhodes, Sarah Resnick, and Christine Jablonski
Our Beginner Rigid Heddle Collection contains all of the yarn and patterns you need for your first three projects - the Textured Cotton Scarf, Beginner Cotton Towels, and Houndstooth Scarf. Each successive project builds on your skills as a learning weaver, helping you to feel more confident at your loom and ready for future projects.
EQUIPMENT
Rigid heddle loom
10 and 12 (or 12.5) dent reed
Two boat shuttles with at least three bobbins or three stick shuttles
YARN
Warp & Weft: Beam 3/2 Organic Cotton in Licorice, White, and Mist; Mallo Cotton Slub in Natural (1 cone each)
SPECIFICATIONS
12" weaving width (Textured Cotton Scarf), 18" weaving width (Beginner Cotton Towels), 14.5" weaving width (Houndstooth Scarf)
One scarf, 10" W x 64" L + fringe (Textured Cotton Scarf). Two towels, 15.5" W x 22" L (Beginner Cotton Towels). One scarf, 12" x 72" (Houndstooth Scarf).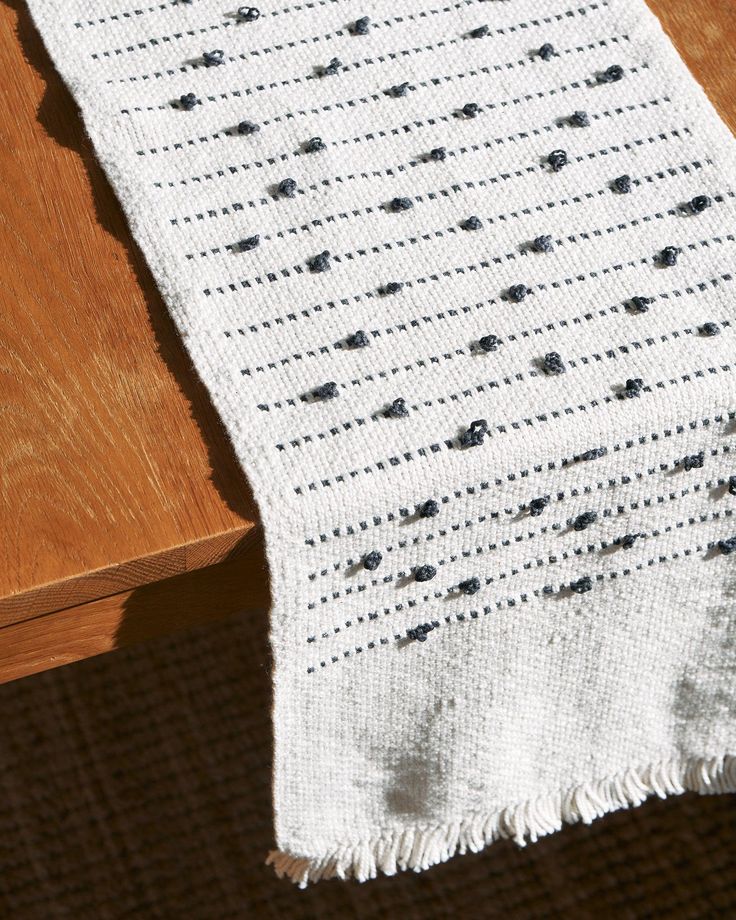 Birch Bark Runner designed by Jennifer E. Kwong

This textured table runner is woven in plain weave with a supplementary weft and boutonné (pulled loops) throughout the design. The pattern and neutral color palette are inspired by birch trees and winter walks in the woods. Designed with beginner rigid heddle weavers in mind, this project combines a sturdy 3/2 organic cotton warp with a textural cotton slub weft.
Warp: Beam Organic Cotton, 570 yds Natural
Weft: Mallo Cotton Slub, 290 yds Natural, 90 yds Coal; 380 yds total
15 EPI (doubled ends in a 7.5 dent reed)
9.5 PPI (including inlay picks)


Zig Zag Twill Scarf designed by Christine Tsai

This warm and cozy scarf is woven on a rosepath (extended point twill) threading with two alternating stripes of color in the warp. Variations of 2/2 twill and plain weave in the treadling create a striking elongated zig zag pattern and slightly longer warp floats which enhance the softness of the alpaca yarn. Order a kit. Equipment 4 shaft loom 12 dent reed One boat shuttle with bobbins Yarn Warp: Ode Alpaca, 250 yds Cream, 150 yds Fawn; 400 yds total Weft: Ode Alpaca, 270 yds Shadow Specifications 9.4" weaving width 12 EPI 12 PPI 8.5" W x 68.5" L + fringe