Skip Navigation
Website Accessibility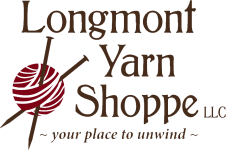 303-678-8242
454 Main St., Longmont, CO 80501
View Cart

Hours
Monday - CLOSED
Tuesday - Thursday 10- 5 pm
Friday 10 - 6 pm
Saturday 10 - 5
Sunday 12- 4 pm
View Holiday Hours
CLOSED: Fiberside Chats: Aimée Gille May 7, 2023
Shop:

Longmont Yarn Shoppe
---
Shop:

Bella Filati Luxury Yarns
---
Shop:

The Studio Knitting & Needlepoint
---
Shop:

3 Kittens Needle Arts
---
---
Shop:

The Yarn Store at Nob Hill
---
---
---
---
Shop:

String Theory Yarn Company
---
---
Shop:

Hill Country Weavers
---
---
---
---
---
---
---
Shop:

Four Purls Yarn Shop
---
Shop:

Harps & Thistles Yarn Emporium
---
---
---
---
---
---
---
---
Shop:

Mother of Purl Yarn Shop
---
---
---
---
Shop:

Center of the Yarniverse
---
---
---
---
Shop:

Southern Twist Yarns
---
Shop:

Knit and Stitch boutique
---
This item is not available for purchase online. Please call 303-678-8242 to order.
Please scroll through the list to find your LYS, choose quantity of people attending (1 or more!), Add to Cart and checkout.
Neons & Neutrals with Aimée Gille
Aimee will take us on a tour of her second book, Neons & Neutrals, A Knitwear Collection Curated by Aimée Gille of La Bien Aimée. This eclectic collection features 16 patterns by 16 talented designers, including Brandi Cheyenne Harper, Inese Sang, Layla Yang, Julia Wilkens, and more... This book is a reflection of Aimée's desire to showcase talented people in the community through collaboration. She will present each design individually and talk about the different designers and their inspirations. Aimée will also talk about the varied yarn producers and dyers she selected for this project. She will share how her former days as a yarn shop owner, and the joy she experienced knitting other people's patterns with other people's yarns, inspired her to create a book all about combining yarns across bases and brands.
Bonus - we'll also get a behind-the-scenes tour of Aimée's Paris-based atelier, where all of her fabulous yarn is dyed. You will get to visually follow the path of a skein of yarn, from undyed base, through the entire dyeing and finishing process, to the colorful shelves of the sales floor, where the yarn waits to be sent out to crafters worldwide.
Aimée Gille is a Korean-American living in Paris, France. In 2008, she opened L'OisiveThé, where she welcomed knitters and crafters from all over the world at her weekly knit nights. Following the success of L'OisiveThé, Aimée started her own yarn company La Bien Aimee in 2015. As a self-taught dyer, Aimée is inspired by her childhood, travels, and encounters with people, and uses yarn as a way to tell stories and share experiences. Place and culture are particularly important to Aimée. Her iconic 'Yellow Brick Road' color reflects not only the state of Kansas where she grew up, but also her Asian heritage.
Aimée wanted a way to continue to connect with the fiber community after she closed her brick-n-mortar shops. She conceived of and curated her first pattern collection, Worsted , in the height of the Covid pandemic. After Worsted 's stunning success, she went right back to work on her next collection, Neons & Neutrals . Both of Aimée's
pattern collections have been a way of reaching out to the knitters she could no longer welcome in person. As travel and public appearances return, Aimée is thrilled to see crafters and their creations inspired by her books.
Aimée lives in Paris with her husband and their two children.
This is a live Zoom Event on Sunday, May 7th at 1:00pm Eastern, 12:00pm Central, 11:00am Mountain, 10:00am Pacific, 7:00pm CEST

This Fiberside Chat will be recorded - a link to the recording will be available for one week and shared with registered attendees only.