Skip Navigation
Website Accessibility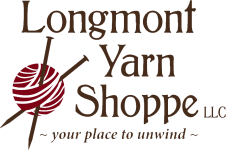 303-678-8242
454 Main St., Longmont, CO 80501
View Cart

Hours
Monday - CLOSED
Tuesday - Thursday 10- 5 pm
Friday 10 - 6 pm
Saturday 10 - 5
Sunday 12- 4 pm
View Holiday Hours
CLOSED Fiberside Chats: Alicia Plummer March 5, 2023
Shop:

Longmont Yarn Shoppe
---
Shop:

Bella Filati Luxury Yarns
---
Shop:

The Studio Knitting & Needlepoint
---
Shop:

3 Kittens Needle Arts
---
---
Shop:

The Yarn Store at Nob Hill
---
---
---
---
Shop:

String Theory Yarn Company
---
---
Shop:

Hill Country Weavers
---
---
---
---
---
---
---
---
Shop:

Four Purls Yarn Shop
---
Shop:

Harps & Thistles Yarn Emporium
---
---
---
---
---
---
---
---
Shop:

Mother of Purl Yarn Shop
---
---
---
---
Shop:

Center of the Yarniverse
---
---
---
This item is not available for purchase online. Please call 303-678-8242 to order.
Please scroll through the list to find your LYS, choose quantity of people attending (1 or more!), Add to Cart and checkout.
Knitted Stories & the Power of Voice
The knitted fabric is a blank page full of potential where we get to write our stories. Come join us as Alicia shares how she transcribes life into stitches and discusses the importance of storytelling and listening. Learn the simple method she uses to quiet the noise of the outside world. Join us as you learn how to choose patterns and knit pieces with clarity of mind, and how you can utilize this method to create something beautiful that reflects the depths within yourself. Paper & pen optional, but encouraged.
Alicia Plummer is a lover of literature and storytelling in all forms. She transcribes metaphors and stories through texture and stitch, drawing inspiration from personal experiences, memories, and feelings. When she is not knitting, she is busy renovating her 1800s home in Midcoast Maine, spending time with her family exploring the outdoors, or reading. She also loves animals and hugs. You can find her on Instagram as Aliciaplums, & she is also the coauthor of Plum Dandi Knits.
This is a live Zoom Event on Sunday, March 5th at 3:00pm Eastern, 2:00pm Central, 1:00pm Mountain, 12:00pm Pacific

This Fiberside Chat will be recorded - a link to the recording will be available for one week and shared with registered attendees only.