Skip Navigation
Website Accessibility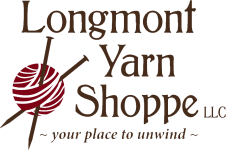 303-678-8242
454 Main St., Longmont, CO 80501
View Cart

Hours
Monday - CLOSED
Tuesday - Thursday 10- 5 pm
Friday 10 - 6 pm
Saturday 10 - 5
Sunday 12- 4 pm
View Holiday Hours
CLOSED Fiberside Chats: Ann Budd May 21, 2023
Shop:

Longmont Yarn Shoppe
---
Shop:

Bella Filati Luxury Yarns
---
Shop:

The Studio Knitting & Needlepoint
---
Shop:

3 Kittens Needle Arts
---
---
Shop:

The Yarn Store at Nob Hill
---
---
---
---
Shop:

String Theory Yarn Company
---
---
Shop:

Hill Country Weavers
---
---
---
---
---
---
---
Shop:

Four Purls Yarn Shop
---
Shop:

Harps & Thistles Yarn Emporium
---
---
---
---
---
---
---
---
Shop:

Mother of Purl Yarn Shop
---
---
---
---
Shop:

Center of the Yarniverse
---
---
---
---
Shop:

Southern Twist Yarns
---
Shop:

Knit and Stitch boutique
---
This item is not available for purchase online. Please call 303-678-8242 to order.
Please scroll through the list to find your LYS, choose quantity of people attending (1 or more!), Add to Cart and checkout.
Adjusting for a Different Gauge!
What do you do when you absolutely cannot match the gauge specified in a pattern? In this one-hour online class, Ann Budd will guide you through adjusting a pattern to work for *your* gauge. Sometimes this means adjusting the numbers in the pattern and sometimes it means simply following the instructions for a different size. It's all a matter of simple math and ratios that Ann will demystify. A handout of how to use a conversion factor will be provided.
Ann Budd is an author of more than a dozen ever popular knitting books, a devoted teacher who helps other develop their own approach to knitting and designing, and is the founder of Knit for Fun Retreats. A current passion of Ann's is helping raise awareness around Alzheimer's Disease and the fight against it, as more of her friends and family become victims. Hear how Ann is contributing to the fight against Alzheimer's, and what she's been up to lately! See more here: annbuddknits.com
This is a live Zoom Event on Sunday, May 21st at 1:00pm Eastern, 12:00pm Central, 11:00am Mountain, 10:00am Pacific

This Fiberside Chat will be recorded - a link to the recording will be available for one week and shared with registered attendees only.