Skip Navigation
Website Accessibility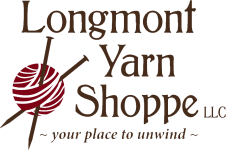 303-678-8242
454 Main St., Longmont, CO 80501
View Cart

Hours
Monday - CLOSED
Tuesday - Thursday 10- 5 pm
Friday 10 - 6 pm
Saturday 10 - 5
Sunday 12- 4 pm
View Holiday Hours
CLOSED Fiberside Chats: Denise Bell January 8, 2023
Shop:

Longmont Yarn Shoppe
---
Shop:

Bella Filati Luxury Yarns
---
Shop:

The Studio Knitting & Needlepoint
---
Shop:

3 Kittens Needle Arts
---
---
Shop:

The Yarn Store at Nob Hill
---
---
---
---
Shop:

String Theory Yarn Company
---
---
Shop:

Hill Country Weavers
---
---
---
---
---
---
---
---
Shop:

Four Purls Yarn Shop
---
Shop:

Harps & Thistles Yarn Emporium
---
---
---
---
---
---
---
---
Shop:

Mother of Purl Yarn Shop
---
---
---
---
Shop:

Center of the Yarniverse
---
---
---
This item is not available for purchase online. Please call 303-678-8242 to order.
Please scroll through the list to find your LYS, choose quantity of people attending (1 or more!), Add to Cart and checkout.
Steeking Will Set You Free!
Designer and knitting teacher Denise Bell lives in rural Oklahoma, six miles from the closest four-way stop. Because she seldom wastes time battling traffic, she spends what some might consider an exorbitant amount of time pondering how nature and knitting intersect. In January she'll be sharing the backstory of a few of her favorite knitting designs which range from fine lace inspired by kale to colorwork featuring a bat and a lizard. She'll also introduce a her latest colorwork design!

This brand-new garment features one of her favorite knitting techniques – steeking! Denise is a huge fan of demystifying this technique, telling anyone who will listen that planning a steek in advance leaves nothing to fear about taking scissors to your knitting. Adding a steek to a knitted garment can help avoid purling, alleviate the angst of working colorwork flat, and enable the knitter to work sleeves two-at-a-time, thus avoiding the dreaded Second Sleeve Syndrome. Denise will present several styles of steek bridges while acknowledging how awkward a garment looks before cutting. Finally, she will show how she finishes the raw edges in a way that would make her high school home economics teacher proud. She may even be willing to give us a peek inside some of her sweaters to see how the cut steeks have held up over the course of time.
Sign up now and Zoom with Denise to discover how Steeking Will Set You Free.
Denise Bell of Lost City Knits - Bio
When she was growing up, Denise always performed some kind of handwork. Upon learning to knit she was instantly addicted. Wherever she looks, Denise sees patterns, so it's no surprise that her knitting emphasis is lace and colorwork. Denise is a sought after instructor who teaches coast-to-coast at knitting conventions, yarn shops, retreats, and guilds. Travel and spending time in the natural world provide inspiration. Her first book Ultima Thule – Patterns Inspired by the Shetland Islands drew from Shetland knitting traditions, but also from life-long Shetlanders themselves. Her next book, Deep Roots – Patterns Inspired by the Tallgrass Prairie took the same approach to the flora, fauna, and inhabitants of this distinctly American landscape.
Her business, Lost City Knits, named for the community nearest her Oklahoma farm, offers traditional yarns, fine hand-dyed yarns, and original designs. When not knitting, teaching, dyeing, or designing, Denise puts her pattern-seeking abilities to work solving cryptic crossword puzzles, and because no one can do just one thing, she also kayaks on lakes and streams near her eastern Oklahoma home.

This is a live Zoom Event on Sunday, January 8th at 4:00pm Eastern, 3:00pm Central, 2:00pm Mountain, 1:00pm Pacific

This Fiberside Chat will be recorded - a link to the recording will be available for one week and shared with registered attendees only.