Skip Navigation
Website Accessibility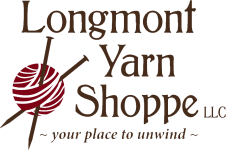 303-678-8242
454 Main St., Longmont, CO 80501
View Cart

Hours
Monday - CLOSED
Tuesday - Thursday 10- 5 pm
Friday 10 - 6 pm
Saturday 10 - 5
Sunday 12- 4 pm
View Holiday Hours
CLOSED Fiberside Chats: Justyna Lorkowska April 16, 2023
Shop:

Longmont Yarn Shoppe
---
Shop:

Bella Filati Luxury Yarns
---
Shop:

The Studio Knitting & Needlepoint
---
Shop:

3 Kittens Needle Arts
---
---
Shop:

The Yarn Store at Nob Hill
---
---
---
---
Shop:

String Theory Yarn Company
---
---
Shop:

Hill Country Weavers
---
---
---
---
---
---
---
Shop:

Four Purls Yarn Shop
---
Shop:

Harps & Thistles Yarn Emporium
---
---
---
---
---
---
---
---
Shop:

Mother of Purl Yarn Shop
---
---
---
---
Shop:

Center of the Yarniverse
---
---
---
---
Shop:

Southern Twist Yarns
---
Shop:

Knit and Stitch boutique
---
This item is not available for purchase online. Please call 303-678-8242 to order.
Please scroll through the list to find your LYS, choose quantity of people attending (1 or more!), Add to Cart and checkout.
Knitted-On Borders - A Perfect Finish!
They can be simple or intricate, lacy or cabled—your choice—one thing is sure: knitted-on borders give a unique touch to a shawl. This Chat with Justyna Lorkowska will focus on how to attach knitted-on borders to a variety of shawl types (and garments!), how to create your own border pattern, and how to determine the amount of yarn you'll need. Learn how to make your shawl one of a kind!
Justyna (aka Lete's Knits) is a former English teacher and a knitwear fanatic. She learned her first stitches as a teenager from her mother but gave up on knitting until she had her first child. At that time she took up her needles with passion and began to design knitwear for children and adults. Justyna's true passion is designing unique garments, especially seamless ones, with intricate details and beautiful finishing. Justyna was widely published in many well-known magazines such as Amirisu, Laine, Making and Pompom. She also published two books, Tabula Rasa: Neutrals, and Tabula Rasa: Speckles. In 2021 she created an indie yarn brand Cecily Grove Yarns offering small batches of beautifully hand dyed skeins by Justyna herself. Justyna lives in Poland with her three kids, and two pups.
Learn more at www.justynaknits.com.
This is a live Zoom Event on Sunday, April 16th at 1:00pm Eastern, 12:00pm Central, 11:00am Mountain, 10:00am Pacific, 7:00pm CEST

This Fiberside Chat will be recorded - a link to the recording will be available for one week and shared with registered attendees only.