Skip Navigation
Website Accessibility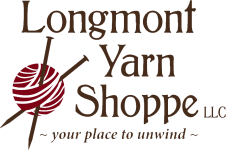 303-678-8242
454 Main St., Longmont, CO 80501
View Cart

Hours
Monday - CLOSED
Tuesday - Thursday 10- 5 pm
Friday 10 - 6 pm
Saturday 10 - 5
Sunday 12- 4 pm
View Holiday Hours
CLOSED Fiberside Chats Recording Only: Mary Ann Gebhardt
Please choose quantity of people attending (1 or more!), Add to Cart and checkout.
Yoga for your Knitting & Crochet Rhythm!
The yoga and meditation guidance this Fiberside Chat provided was so relaxing and rejuvenating! Registering now will provide you a perfect opportunity to utilize the recording through March 5th, 11:59pm MST, to bring this practice to your handwork too!

Mary Ann will be sharing the healing aspects of knitting and crocheting. The class will cover gentle hand and shoulder movements to relax the muscles you use most. We'll explore knitting and crocheting as a form of meditation incorporating the sounds of the Tibetan singing bowls. Join this class to combine your passions or learn a new compliment to your needlework!
Mary Ann Gebhardt has studied yoga and meditation for over 40 years. She is a registered member of the Yoga Alliance E-500 hour and a Chopra Certified Instructor. She runs workshops on mindful practices such as knitting meditations and sound meditations using Tibetan singing bowls. Her deep respect for meditation comes in part from her experience working as a Medical Technologist in Hematology and Open Heart Surgery at Hackensack Medical Center. There she witnessed first-hand the powerful connection between the mind and body in the healing process.
Mary Ann began knitting at age seven and started yoga in her twenties. Picking up her needles and quietly sitting to knit is pure peace for Mary Ann. Instagram @Mary_Ann_Gebhardt www.yogabymaryann.com
Your purchase of this product will provide a link to the recording of the live Zoom Event that was held on Sunday, February 26th.

The recording is available until 11:59pm, Sunday, March 5th.