Skip Navigation
Website Accessibility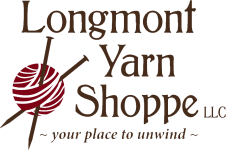 303-678-8242
454 Main St., Longmont, CO 80501
View Cart

Hours
Monday - CLOSED
Tuesday - Thursday 10- 5 pm
Friday 10 - 6 pm
Saturday 10 - 5
Sunday 12- 4 pm
View Holiday Hours
Closed Fiberside Chats: Mountain Meadow Wool Mill June 4, 2023
Please scroll through the list to find your LYS, choose quantity of people attending (1 or more!), Add to Cart and checkout.
Mountain Meadow Wool Mill - Virtual Visit
Get ready to hear the fascinating success story of Mountain Meadow Wool from the very person who started it all. Join Karen on an exciting and informative journey through the largest wool mill on this side of the Mississippi River! As she takes you on a virtual tour of the mill, Karen will share delightful stories about starting a full-service wool mill and fun facts about the yarn. Get ready to be surprised as Karen reveals the numerous yarn companies she works with and where you might come across Mountain Meadow Wool. Be a part of this opportunity to explore the world of wool, and the incredible journey of Mountain Meadow Wool.
About Karen: I am a mother of 7 and grandmother of 22! I consider this the best part of my life. I live in Wyoming in a big old log house by a creek and life is good. I have always loved wool, starting with my roots in Colorado. When I was 16, I was given some wool from our neighbor's sheep and so I went to the library and learned how to wash it up. I had it spread all over the grass… and the journey began. Learning how to crochet and knit followed and then spinning and weaving classes in college.
The Wool Mill adventure started when my last child was in school, and a good friend and I started thinking about starting a business! When we started looking into a wool business the road took some very interesting twists and turns and by 2007 we started the mill. We are now in our 16th year, and it is a spinning, whirling factory! www.mountainmeadowwool.com
This is a live Zoom Event on Sunday, June 4th at 3:00pm Eastern, 2:00pm Central, 1:00pm Mountain, 12:00pm Pacific

This Fiberside Chat will be recorded - a link to the recording will be available for one week and shared with registered attendees only.