Skip Navigation
Website Accessibility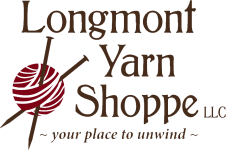 303-678-8242
454 Main St., Longmont, CO 80501
View Cart

Hours
Monday - CLOSED
Tuesday - Thursday 10- 5 pm
Friday 10 - 6 pm
Saturday 10 - 5
Sunday 12- 4 pm
View Holiday Hours
CLOSED Fiberside Chats: Caroline Sommerfeld - Ancient Arts Fibres October 22, 2023
Shop:

Longmont Yarn Shoppe
---
Shop:

Bella Filati Luxury Yarns
---
Shop:

The Studio Knitting & Needlepoint
---
Shop:

3 Kittens Needle Arts
---
---
Shop:

The Yarn Store at Nob Hill
---
---
Shop:

Yarniversity by River City Yarns
---
---
Shop:

String Theory Yarn Company
---
---
Shop:

Hill Country Weavers
---
---
---
---
---
---
Shop:

Four Purls Yarn Shop
---
Shop:

Harps & Thistles Yarn Emporium
---
---
---
---
---
---
---
---
Shop:

Mother of Purl Yarn Shop
---
---
---
---
Shop:

Center of the Yarniverse
---
---
---
---
Shop:

Southern Twist Yarns
---
Shop:

Knit and Stitch boutique
---
---
---
Shop:

Low Country Shrimp and Knits
---
This item is not available for purchase online. Please call 303-678-8242 to order.
Please scroll through the list to find your LYS, choose quantity of people attending (1 or more!), Add to Cart and checkout.
Yarn! Making the World a Better Place with Caroline Sommerfeld

The intriguing journey of yarn production spans centuries. But what happens behind the scenes today? Join us as Caroline Sommerfeld uncovers the captivating tale of how wool and fibers traverse the globe to become the yarns we adore. This talk reveals the meticulous planning and partnership that goes into producing local and commercial yarns.
Moreover, let's explore the astounding variety of sheep breeds beyond the renowned Merino wool. Delving into heritage breeds and sustainable fibers, we unravel the rich histories and cultural significance they offer. As many of these breeds face endangerment, we, as knitters, crocheters, weavers, and more, possess the power to make a remarkable difference in the world through our craft!

Bio: Caroline has always been fascinated by fibres and yarn and demanded to learn to knit when she was four, which kicked off a lifelong passion for all things knitting and yarn! Knitting was quickly followed by embroidery, crochet, hand dyeing, rug hooking, tatting, bobbin lace and later spinning and weaving. Spinning brought with it the opportunity to learn more about the properties of fibres and yarn design and learning to spin launched thirty years of intensive study about fibre and how yarn is made, a study that goes on to this day. As a hand spinner she has worked with well over 100 breeds of wool from all over the world and has greatly enjoyed researching the history of sheep and spinning technology through the centuries.
Caroline is the founder and creative director of Ancient Arts Fibre Crafts where she uses her passion and deep knowledge of fibre to design the custom yarns and colour ways sold by her company. The company focuses on sustainable, eco-friendly, and heritage fibres and practices to create purpose driven yarns, designed to provide the best experience possible while at the same time promoting these values. Caroline also works as a knit designer, appearing in various publications including Vogue Knitting, Interweave Knits, and Wool Studio, and is also published through Ancient Arts Fibre Crafts. Caroline is an avid fibre artist who incorporates stories into all her work and loves nothing more than to share her passion for fibres, yarn, history, and knitting with other people through teaching!
This is a live Zoom Event on Sunday, October 22nd at 1:00pm Eastern, 12:00pm Central, 11:00am Mountain, 10:00am Pacific

This Fiberside Chat will be recorded - a link to the recording will be available for one week and shared with registered attendees only.