Skip Navigation
Website Accessibility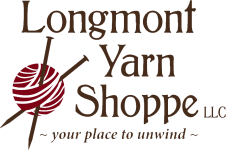 303-678-8242
454 Main St., Longmont, CO 80501
View Cart

Hours
Monday - CLOSED
Tuesday - Thursday 10- 5 pm
Friday 10 - 6 pm
Saturday 10 - 5
Sunday 12- 4 pm
View Holiday Hours
CLOSED Fiberside Chats: Anna Hrachovec April 30, 2023
Shop:

Longmont Yarn Shoppe
---
Shop:

Bella Filati Luxury Yarns
---
Shop:

The Studio Knitting & Needlepoint
---
Shop:

3 Kittens Needle Arts
---
---
Shop:

The Yarn Store at Nob Hill
---
---
---
---
Shop:

String Theory Yarn Company
---
---
Shop:

Hill Country Weavers
---
---
---
---
---
---
---
Shop:

Four Purls Yarn Shop
---
Shop:

Harps & Thistles Yarn Emporium
---
---
---
---
---
---
---
---
Shop:

Mother of Purl Yarn Shop
---
---
---
---
Shop:

Center of the Yarniverse
---
---
---
---
Shop:

Southern Twist Yarns
---
Shop:

Knit and Stitch boutique
---
This item is not available for purchase online. Please call 303-678-8242 to order.
Please scroll through the list to find your LYS, choose quantity of people attending (1 or more!), Add to Cart and checkout.
Come and visit Mochimochi Land!
Play is essential to creativity and problem solving, and knitting toys is so much more than kid stuff! Join Anna Hrachovec of Mochimochi Land as she brings you on a tour of her playful knitted world—a world that started with gifts for friends and has evolved into art installations, children's books, and even a forthcoming television show. Anna will share how she takes an idea from sketch to finished creature in a matter of hours, along with her top tips for toy knitting. Plus, she'll leave you with inspiration and ideas for making your wooly friends come to life using stop-motion animation.
Anna Hrachovec is a Chicago-based designer and artist who loves to knit little creatures. Just about everything is more fun in tiny knitted form, so she's inspired by everything! Under her designer brand, Mochimochi Land, Anna has created hundreds (and hundreds!) of knitting patterns that can be found in books and on her website (mochimochiland.com) and Ravelry. When she's not making cute stuff out of yarn, Anna is busy making stop-motion animations with her woolly friends. Her heart-knitting gnome is one of the most widely shared GIFs in the world.
This is a live Zoom Event on Sunday, April 30th at 1:00pm Eastern, 12:00pm Central, 11:00am Mountain, 10:00am Pacific

This Fiberside Chat will be recorded - a link to the recording will be available for one week and shared with registered attendees only.