Skip Navigation
Website Accessibility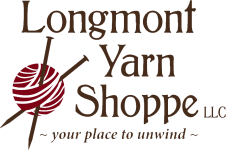 303-678-8242
454 Main St., Longmont, CO 80501
View Cart

Hours
Monday - CLOSED
Tuesday - Thursday 10- 5 pm
Friday 10 - 6 pm
Saturday 10 - 5
Sunday 12- 4 pm
View Holiday Hours
CLOSED Fiberside Chats: Bristol Ivy November 20, 2022
Shop:

Longmont Yarn Shoppe
---
Shop:

Bella Filati Luxury Yarns
---
Shop:

The Studio Knitting & Needlepoint
---
Shop:

3 Kittens Needle Arts
---
---
Shop:

The Yarn Store at Nob Hill
---
---
---
---
Shop:

String Theory Yarn Company
---
---
Shop:

Hill Country Weavers
---
---
---
---
---
---
---
---
Shop:

Four Purls Yarn Shop
---
Shop:

Harps & Thistles Yarn Emporium
---
---
---
---
---
---
---
---
Shop:

Mother of Purl Yarn Shop
---
---
---
---
Shop:

Center of the Yarniverse
---
---
This item is not available for purchase online. Please call 303-678-8242 to order.
Please scroll through the list to find your LYS, choose quantity of people attending (1 or more!), Add to Cart and checkout.
Pi Shawls - not a mystery!
Elizabeth Zimmerman made Pi shawls famous in the 1980s, and they've been a staple of knitters' wardrobes and project bags ever since. But did you know you can take the concept of a pi shawl for a joyride? In this talk, Bristol Ivy will break down the simple math behind pi shawls. We'll talk about how we can use that math to explore different shapes, stitches, and even directions of knitting to create a pi shawl truly our own! This will be a fantastic Chat, with Bristol math is never scary and really fun!
Bristol Ivy Bio
Bristol Ivy is a knitting designer, teacher, and author from Bangor, Maine. Her work has been published with PomPom Magazine, amirisu, Quince & Co.,Making Magazine, and her own eponymous pattern line. She has taught at such events as Squam Art Workshops, Edinburgh Yarn Festival, and Vogue Knitting Live, as well as yarn shops worldwide. Her recent books, Knitting Outside the Box and Knitting Outside the Box: Drape and Fold, both with PomPom Press, explore her lifelong commitment to breaking rules and finding beauty in unexpected places. When not knitting, she's sewing, running, watching far too many British murder mysteries, and baking a mean loaf of oatmeal honey bread. Find her online at bristolivy.com and on Instagram and Twitter as @bristolivy

This is a live Zoom Event on Sunday, November 20th at 1:00pm Eastern, 12:00pm Central, 11:00am Mountain, 10:00am Pacific

This Fiberside Chat will be recorded - a link to the recording will be available for one week and shared with registered attendees only.