Skip Navigation
Website Accessibility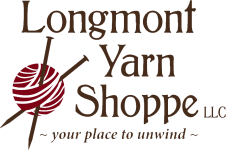 303-678-8242
454 Main St., Longmont, CO 80501
View Cart

Hours
Monday - CLOSED
Tuesday - Thursday 10- 5 pm
Friday 10 - 6 pm
Saturday 10 - 5
Sunday 12- 4 pm
View Holiday Hours
CLOSED Fiberside Chats: Carol Feller March 6th, 2022
Shop:

Longmont Yarn Shoppe
---
Shop:

Bella Filati Luxury Yarns
---
Shop:

The Studio Knitting & Needlepoint
---
Shop:

3 Kittens Needle Arts
---
---
---
Shop:

The Yarn Store at Nob Hill
---
---
---
---
Shop:

String Theory Yarn Company
---
---
Shop:

Hill Country Weavers
---
---
---
---
---
---
---
---
---
Shop:

Four Purls Yarn Shop
---
Shop:

Harps & Thistles Yarn Emporium
---
---
---
---
---
---
---
---
Shop:

Mother of Purl Yarn Shop
---
---
This item is not available for purchase online. Please call 303-678-8242 to order.
What's so Special about Short Rows?
Carol Feller has written the book on short rows, literally! Most knitters have heard about short rows, often they're just an annoying extra you have to add to your work. But did you know that this simple technique can create magical results? You can transform flat surfaces into three dimensions, and add curves to straight lines. Come learn all about Carol's favourite short row techniques, how she adds them to her knitting, and explore the wide range of ways they can be used in your knitting. What fun it will be to virtually visit with Carol at her studio in Ireland!
No homework is necessary but if you have some yarn and needles you can try a few of the techniques as she talks through them.

Bio: As with many Irish children Carol learned to knit while still in primary school and spent many years knitting cardigans for her dolls and occasionally herself.
Carol trained initially as a textile artist and then as a structural engineer. While both of these backgrounds are very different the influences can be seen in her design work which is well-shaped, flattering to wear and enjoyable to knit.
She is the founder of Stolen Stitches and has been widely published in books and magazines and travels the world teaching in yarn shops and fibre festivals. The classes she teaches cover a wide range of subjects from basics, cables and chart reading, through garment shaping and customisation right through to short rows and colourwork. Find out more here: https://stolenstitches.com/
This is a live Zoom Event on Sunday, March 6th at 1:00pm Eastern, 12:00pm Central, 11:00am Mountain, 10:00am Pacific.
This Fiberside Chat will be recorded - a link to the recording will be available for one week and shared with registered attendees only.