Skip Navigation
Website Accessibility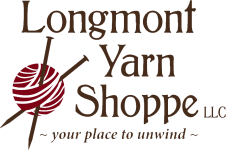 303-678-8242
454 Main St., Longmont, CO 80501
View Cart

Hours
Monday - CLOSED
Tuesday - Thursday 10- 5 pm
Friday 10 - 6 pm
Saturday 10 - 5
Sunday 12- 4 pm
View Holiday Hours
Fiberside Chats > CLOSED Fiberside Chats: Cecilia Nelson Hurt February 20th, 2022
CLOSED Fiberside Chats: Cecilia Nelson Hurt February 20th, 2022
Shop:

Longmont Yarn Shoppe
---
Shop:

Bella Filati Luxury Yarns
---
Shop:

The Studio Knitting & Needlepoint
---
Shop:

3 Kittens Needle Arts
---
---
---
Shop:

The Yarn Store at Nob Hill
---
---
---
---
Shop:

String Theory Yarn Company
---
---
Shop:

Hill Country Weavers
---
---
---
---
---
---
---
---
---
Shop:

Four Purls Yarn Shop
---
Shop:

Harps & Thistles Yarn Emporium
---
---
---
---
---
---
---
---
Shop:

Mother of Purl Yarn Shop
---
This item is not available for purchase online. Please call 303-678-8242 to order.
"Our Common Threads - How Creative Ceci Knits The World"
Fiber enthusiast Cecilia Nelson-Hurt, known to many as Creative Ceci is not only a diversity, equity, and inclusion practitioner for a major global company; she is also a passionate knitter who blends her love of creating spaces to discuss diversity and her love of knitting and travel seamlessly on social media and in real life. Having traveled around the world and visited more than 175 yarn shops, Cecilia has discovered that it's "our common threads" that knit us together. She will share her favorite travel experiences where she's learned every yarn shop around the globe is a community where we can always belong, even if you don't know the language.
Join Cecilia for a candid conversation on how she "knits the world" in both her professional and crafting world.
Cecilia Nelson-Hurt is a proud Afro Latina who was taught to crochet as a child by her Grandma Sophie. She learned to knit many years later by calling on a combination of books and the friendly assistance of a local yarn shop owner. Known to many in the fiber community as 'Creative Ceci' she is a global knitting and crochet enthusiast.
In her day job Ceci is a Diversity & Inclusion practitioner for global brand L'Oreal and has over 20 years' experience developing and executing initiatives to create an equal opportunity workplace. As a marketing consultant, professional development coach and motivational speaker she leverages her training and experience as a speaker at many fiber events and is also an inaugural member of the 'Vogue Knitting Live!' Diversity Advisory Council.
At the intersection of passion and purpose, Cecilia combines her love for knitting, advancing diversity and inclusion with fostering a sense of belonging in order to create a more inclusive fiber community.
A self-proclaimed citizen of the world, Cecilia loves to travel and ensures she visits a yarn shop wherever she goes. To date she's visited over 150+ shops both across the USA and internationally, chronicling those travels on her 'CeciKnitsTheWorld' Instagram profile and YouTube channel.
This is a live Zoom Event on Sunday, February 20th at 1:00pm Eastern, 12:00pm Central, 11:00am Mountain, 10:00am Pacific.
This Fiberside Chat will be recorded - a link to the recording will be available for one week and shared with registered attendees only.