Skip Navigation
Website Accessibility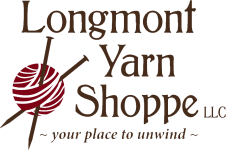 303-678-8242
454 Main St., Longmont, CO 80501
View Cart

Hours
Monday - CLOSED
Tuesday - Thursday 10- 5 pm
Friday 10 - 6 pm
Saturday 10 - 5
Sunday 12- 4 pm
View Holiday Hours
CLOSED Fiberside Chats: Fiona Ellis April 3, 2022
Shop:

Longmont Yarn Shoppe
---
Shop:

Bella Filati Luxury Yarns
---
Shop:

The Studio Knitting & Needlepoint
---
Shop:

3 Kittens Needle Arts
---
---
---
Shop:

The Yarn Store at Nob Hill
---
---
---
---
Shop:

String Theory Yarn Company
---
---
Shop:

Hill Country Weavers
---
---
---
---
---
---
---
---
---
Shop:

Four Purls Yarn Shop
---
Shop:

Harps & Thistles Yarn Emporium
---
---
---
---
---
---
---
---
Shop:

Mother of Purl Yarn Shop
---
---
This item is not available for purchase online. Please call 303-678-8242 to order.
"The Practise of Knitting Meditation"
The more we practise a skill the better we become. This is true for beginners and experts alike. As an experienced knitter, we may have become less mindful of the process than when we had the laser focus of a beginner, back when each stitch was an achievement and every row a trophy. The moment that we begin to get the hang of something we lose our focus and make a goof. This is of course part of the process; we pick ourselves up, dust ourselves down, regroup and learn from it.
So, by bringing awareness to the sensations that we experience while knitting, can we become more focused?
Marrying her knowledge of both knitting and yoga, Fiona has been exploring how we might bring the practise of mediation to our knitting practise. In addition to the mind-calming aspect, Fiona believes that cultivating an awareness of what is happening on our needles helps us become better, more intuitive knitters. Developing the ability to read our work can make it a more enjoyable practise. Join Fiona for this Chat when she will discuss knitting as a moving meditation and lead us through a few mindful knitting exercises.
About Fiona:
Fiona Ellis is a graduate of DeMontfort University (Leicester UK) with a degree in fashion knitwear design. She has been designing professionally for over 25 years and is a qualified yoga instructor. Her original designs have been sold to major fashion houses in New York, London & Paris for mass-market production and have been widely published through premier knitting magazines (print & digital) and in yarn pattern booklets for many yarn companies. She is the author of the books Inspired Cable Knits, Knitspiration Journal and Inspired Fair Isle Knits & is also an instructor at Craftsy. You can find her designs on Ravelry here: https://www.ravelry.com/designers/fiona-ellis
This is a live Zoom Event on Sunday, April 3rd at 4:00pm Eastern, 3:00pm Central, 2:00pm Mountain, 1:00pm Pacific.
This Fiberside Chat will be recorded - a link to the recording will be available for one week and shared with registered attendees only.