Skip Navigation
Website Accessibility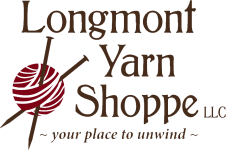 303-678-8242
454 Main St., Longmont, CO 80501
View Cart

Hours
Monday - CLOSED
Tuesday - Thursday 10- 5 pm
Friday 10 - 6 pm
Saturday 10 - 5
Sunday 12- 4 pm
View Holiday Hours
Fiberside Chats > CLOSED Fiberside Chats: Margaux Hufnagel February 19, 2023
CLOSED Fiberside Chats: Margaux Hufnagel February 19, 2023
Shop:

Longmont Yarn Shoppe
---
Shop:

Bella Filati Luxury Yarns
---
Shop:

The Studio Knitting & Needlepoint
---
Shop:

3 Kittens Needle Arts
---
---
Shop:

The Yarn Store at Nob Hill
---
---
---
---
Shop:

String Theory Yarn Company
---
---
Shop:

Hill Country Weavers
---
---
---
---
---
---
---
---
Shop:

Four Purls Yarn Shop
---
Shop:

Harps & Thistles Yarn Emporium
---
---
---
---
---
---
---
---
Shop:

Mother of Purl Yarn Shop
---
---
---
---
Shop:

Center of the Yarniverse
---
---
---
This item is not available for purchase online. Please call 303-678-8242 to order.
Please scroll through the list to find your LYS, choose quantity of people attending (1 or more!), Add to Cart and checkout.
Fill Your Cup
Life is often chaos which is why so many of us turn to fiber arts as a way to calm and ground us. We talk with Margaux Hufnagel, Marketing + Creative Director of Berroco Yarn, who uses knitting and other art practices to help manage the stresses of daily life. Come learn her favorite practices and add a few to your own to create calm, clarity and joy in your everyday.
Margaux Hufnagel has been in the fiber industry since 2005, working at many LYS, sample knitting for indie designers and magazines, and then designing pieces for self-publication, Vogue Knitting and Interweave. She has also run a small and successful Etsy business selling handmade knit items and calligraphy/watercolor pieces. Margaux's current position is Marketing + Creative Director of Berroco Yarn. https://www.ravelry.com/designers/margaux-hufnagel
This is a live Zoom Event on Sunday, February 19th at 1:00pm Eastern, 12:00pm Central, 11:00am Mountain, 10:00am Pacific

This Fiberside Chat will be recorded - a link to the recording will be available for one week and shared with registered attendees only.