Skip Navigation
Website Accessibility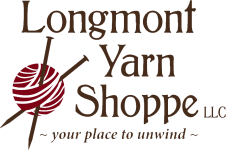 303-678-8242
454 Main St., Longmont, CO 80501
View Cart

Hours
Monday - CLOSED
Tuesday - Thursday 10- 5 pm
Friday 10 - 6 pm
Saturday 10 - 5
Sunday 12- 4 pm
View Holiday Hours
CLOSED Fiberside Chats: Marie Greene June 19, 2022
Shop:

Longmont Yarn Shoppe
---
Shop:

Bella Filati Luxury Yarns
---
Shop:

The Studio Knitting & Needlepoint
---
Shop:

3 Kittens Needle Arts
---
---
---
Shop:

The Yarn Store at Nob Hill
---
---
---
---
Shop:

String Theory Yarn Company
---
---
Shop:

Hill Country Weavers
---
---
---
---
---
---
---
---
---
Shop:

Four Purls Yarn Shop
---
Shop:

Harps & Thistles Yarn Emporium
---
---
---
---
---
---
---
---
Shop:

Mother of Purl Yarn Shop
---
---
This item is not available for purchase online. Please call 303-678-8242 to order.
All About Ease - 10 Expert Secrets for Getting the Right Sweater Fit
Join designer & author Marie Greene for the inside scoop on sweater ease, choosing your size, and getting the fit you expect in your sweaters! Marie will share her top 10 secrets for sweater success in this delightful (and informative) chat.
Marie Greene is the founder of Olive Knits and Knit Camp, and the author of three (soon to be four!) books on knitting, including Seamless Knit Sweaters in 2 Weeks. Her renegade knitting tricks and cheerful teaching style have helped knitters around the world knit with confidence. You'll love her candid insights, brilliant tips and real-life stories that will not only teach and inspire you, but will keep you laughing along the way. Marie lives in the Pacific Northwest with her husband and two adorable (but aloof) kitties.
This is a live Zoom Event on Sunday, June 19th at 1:00pm Eastern, 12:00pm Central, 11:00am Mountain, 10:00am Pacific
This Fiberside Chat will be recorded - a link to the recording will be available for one week and shared with registered attendees only.