Skip Navigation
Website Accessibility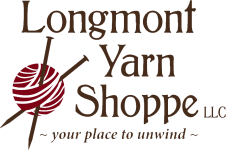 303-678-8242
454 Main St., Longmont, CO 80501
View Cart

Hours
Monday - CLOSED
Tuesday - Thursday 10- 5 pm
Friday 10 - 6 pm
Saturday 10 - 5
Sunday 12- 4 pm
View Holiday Hours
Fiberside Chats > CLOSED Fiberside Chats: Mary Ann Gebhardt February 26, 2023
CLOSED Fiberside Chats: Mary Ann Gebhardt February 26, 2023
Shop:

Longmont Yarn Shoppe
---
Shop:

Bella Filati Luxury Yarns
---
Shop:

The Studio Knitting & Needlepoint
---
Shop:

3 Kittens Needle Arts
---
---
Shop:

The Yarn Store at Nob Hill
---
---
---
---
Shop:

String Theory Yarn Company
---
---
Shop:

Hill Country Weavers
---
---
---
---
---
---
---
---
Shop:

Four Purls Yarn Shop
---
Shop:

Harps & Thistles Yarn Emporium
---
---
---
---
---
---
---
---
Shop:

Mother of Purl Yarn Shop
---
---
---
---
Shop:

Center of the Yarniverse
---
---
---
This item is not available for purchase online. Please call 303-678-8242 to order.
Please scroll through the list to find your LYS, choose quantity of people attending (1 or more!), Add to Cart and checkout.
Yoga for your Knitting & Crochet Rhythm!
Mary Ann will be sharing the healing aspects of knitting and crocheting. The class will cover gentle hand and shoulder movements to relax the muscles you use most. We'll explore knitting and crocheting as a form of meditation incorporating the sounds of the Tibetan singing bowls. Join this class to combine your passions or learn a new compliment to your needlework!
Mary Ann Gebhardt has studied yoga and meditation for over 40 years. She is a registered member of the Yoga Alliance E-500 hour and a Chopra Certified Instructor. She runs workshops on mindful practices such as knitting meditations and sound meditations using Tibetan singing bowls. Her deep respect for meditation comes in part from her experience working as a Medical Technologist in Hematology and Open Heart Surgery at Hackensack Medical Center. There she witnessed first-hand the powerful connection between the mind and body in the healing process.
Mary Ann began knitting at age seven and started yoga in her twenties. Picking up her needles and quietly sitting to knit is pure peace for Mary Ann. Instagram @Mary_Ann_Gebhardt www.yogabymaryann.com
This is a live Zoom Event on Sunday, February 26th at 1:00pm Eastern, 12:00pm Central, 11:00am Mountain, 10:00am Pacific

This Fiberside Chat will be recorded - a link to the recording will be available for one week and shared with registered attendees only.