Skip Navigation
Website Accessibility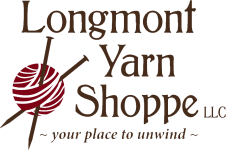 303-678-8242
454 Main St., Longmont, CO 80501
View Cart

Hours
Monday - CLOSED
Tuesday - Thursday 10- 5 pm
Friday 10 - 6 pm
Saturday 10 - 5
Sunday 12- 4 pm
View Holiday Hours
CLOSED Fiberside Chats: Toni Lipsey March 19, 2023
Shop:

Longmont Yarn Shoppe
---
Shop:

Bella Filati Luxury Yarns
---
Shop:

The Studio Knitting & Needlepoint
---
Shop:

3 Kittens Needle Arts
---
---
Shop:

The Yarn Store at Nob Hill
---
---
---
---
Shop:

String Theory Yarn Company
---
---
Shop:

Hill Country Weavers
---
---
---
---
---
---
---
Shop:

Four Purls Yarn Shop
---
Shop:

Harps & Thistles Yarn Emporium
---
---
---
---
---
---
---
---
Shop:

Mother of Purl Yarn Shop
---
---
---
---
Shop:

Center of the Yarniverse
---
---
---
---
Shop:

Southern Twist Yarns
---
Shop:

Knit and Stitch boutique
This item is not available for purchase online. Please call 303-678-8242 to order.
Please scroll through the list to find your LYS, choose quantity of people attending (1 or more!), Add to Cart and checkout.
A Blanket You'll Treasure Forever!

Are you looking for a creative and fun way to document your year? Well, look no further: Learn the in's and out's of creating your very own temperature blanket with crochet designer + educator Toni Lipsey of TL Yarn Crafts. From yarn and color selection to picking the perfect blanket pattern and how to stay motivated Toni will make sure you have all the knowledge you need to get going on this year-long journey. Toni's also sharing her top tips for personalizing your blanket and branching out from the classic afghan. Don't wait any longer---register today and get ready to document your year in yarn!

Materials to have on hand: Pen and Paper
Toni Lipsey, the designer and instructor behind TL Yarn Crafts, strives to spark others' creativity through online tutorials and modern, approachable crochet patterns. Toni learned to crochet from her mother as a teenager and has been exploring the possibilities of yarn ever since. She offers hundreds of crochet patterns on her website and thousands of hours of crochet instruction and inspiration on her YouTube channel. When she's not crocheting, you can find Toni cuddled with her 2 kittens and husband in her Michigan home, binge-watching the latest true-crime thriller. Follow her daily crochet journey on Instagram and pick up her book, The Tunisian Crochet Handbook, and patterns on tlyarncrafts.com.
This is a live Zoom Event on Sunday, March 19th at 3:00pm Eastern, 2:00pm Central, 1:00pm Mountain, 12:00pm Pacific

This Fiberside Chat will be recorded - a link to the recording will be available for one week and shared with registered attendees only.