Skip Navigation
Website Accessibility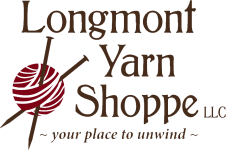 303-678-8242
454 Main St., Longmont, CO 80501
View Cart

Hours
Monday - CLOSED
Tuesday - Thursday 10- 5 pm
Friday 10 - 6 pm
Saturday 10 - 5
Sunday 12- 4 pm
View Holiday Hours
CLOSED Fiberside Chats: Vivian Hoxbro April 24, 2022
Shop:

Longmont Yarn Shoppe
---
Shop:

Bella Filati Luxury Yarns
---
Shop:

The Studio Knitting & Needlepoint
---
Shop:

3 Kittens Needle Arts
---
---
---
Shop:

The Yarn Store at Nob Hill
---
---
---
---
Shop:

String Theory Yarn Company
---
---
Shop:

Hill Country Weavers
---
---
---
---
---
---
---
---
---
Shop:

Four Purls Yarn Shop
---
Shop:

Harps & Thistles Yarn Emporium
---
---
---
---
---
---
---
---
Shop:

Mother of Purl Yarn Shop
---
---
This item is not available for purchase online. Please call 303-678-8242 to order.
A Wonderful Journey - My Knitting Life
We're honored to have Vivian Hoxbro's knitting life journey bring her to us at Fiberside Chats! Little did she know when she learned to knit before going to school that it would bring her to an entire career as a designer, author and teacher. Her numerous books span her research of Danish knitting heritage to her latest release, Vivian Hoxbro's Knitting Handbook. Vivian's favorite thing to do is knitting and playing with techniques. She hates to cast on 300 stitches and just knit upwards so Modular knitting is her thing! Zooming in live from Denmark she will talk about modular knitting and so much more during this Fiberside Chat.

In 1985 I started my career as a designer employed by yarn-companies and soon became a free-lancer working for different yarn-companies and weekly magazines until 1999. I then started designing my own kit-collection and also wrote the small book on domino-knitting. That opened the world of traveling and teaching and I spent many years living out of a suitcase, traveling to the US 26 times and to many other countries also.
During my travels I noticed that there were books on traditional knitting in Norway, Sweden, Estonia, Shetland etc. but no books on the Danish knitting heritage. I felt that I had to write the missing book and I worked on it on and off for 6 years. I am very proud of that book and it is available in English as Traditional Danish Sweaters. When Covid started I thought I would write a book on my techniques as a way of passing them on to the next generation of knitters. It ended up being a beautiful book that I truly love. It is being released at the end of April in the US as Vivian Hoxbro's Knitting Handbook: 8 Schools of Modular Knitting. The publisher of both books is Trafalgar Square Books https://www.trafalgarbooks.com/product/vihokn.html.
This is a live Zoom Event on Sunday, April 24th at 1:00pm Eastern, 12:00pm Central, 11:00am Mountain, 10:00am Pacific.
This Fiberside Chat will be recorded - a link to the recording will be available for one week and shared with registered attendees only.