Skip Navigation
Website Accessibility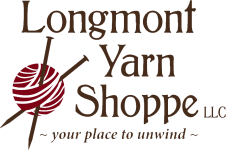 303-678-8242
454 Main St., Longmont, CO 80501
View Cart

Hours
Monday - CLOSED
Tuesday - Thursday 10- 5 pm
Friday 10 - 6 pm
Saturday 10 - 5
Sunday 12- 4 pm
View Holiday Hours
Fiberside Chats > CLOSED Fiberside Chats: Gudrun Johnston & Mary Jane Mucklestone November 19, 2023
CLOSED Fiberside Chats: Gudrun Johnston & Mary Jane Mucklestone November 19, 2023
Shop:

Longmont Yarn Shoppe
---
Shop:

Bella Filati Luxury Yarns
---
Shop:

The Studio Knitting & Needlepoint
---
Shop:

3 Kittens Needle Arts
---
---
Shop:

The Yarn Store at Nob Hill
---
---
Shop:

Yarniversity by River City Yarns
---
---
Shop:

String Theory Yarn Company
---
---
Shop:

Hill Country Weavers
---
---
---
---
---
---
Shop:

Four Purls Yarn Shop
---
Shop:

Harps & Thistles Yarn Emporium
---
---
---
---
---
---
---
---
Shop:

Mother of Purl Yarn Shop
---
---
---
---
Shop:

Center of the Yarniverse
---
---
---
---
Shop:

Southern Twist Yarns
---
Shop:

Knit and Stitch boutique
---
---
---
Shop:

Low Country Shrimp and Knits
---
This item is not available for purchase online. Please call 303-678-8242 to order.
Please scroll through the list to find your LYS, choose quantity of people attending (1 or more!), Add to Cart and checkout.
Shetland Adventuring with Gudrun and Mary Jane

Shetland is known worldwide for its exquisite lace knitting and distinctive Fair Isle colorwork knitting. Less known is how these arts are born out of a culture of thrift and economy, both in materials and time. In this lecture, Mary Jane and Gudrun take you for a behind-the-scenes look at the making of their new book and share some commonalities between these two knitting disciplines and enthuse on the subject of Shetland in general.
For 10 years, the duo led groups of avid knitters to the islands on Grand Shetland Adventures, their signature, once-in-a-lifetime trips, and now, you're invited too! They'll introduce you to their favorite places in the isles, highlighting yarn producers, textile makers, crofters, and favorite walks in the wild outdoors. Come along for the journey!
Gudrun Johnston is a Shetland-born knitwear designer currently based in Massachusetts. She is known for accessible modern-day patterns that are greatly inspired by her heritage. She frequently returns to Shetland where she loves spending time with her family in the Westside.
Mary Jane Mucklestone is an American knitwear designer, teacher, and author of two stitch dictionaries and several other knitting books including Fair Isle Weekend. She is endlessly enchanted and inspired by Shetland's windswept isles. Her book 200 Fair Isle Motifs is used by The Shetland Peerie Makker's after-school knitting program, which, for MJ, is the equivalent of winning an Oscar!
This is a live Zoom Event on Sunday, November 19th at 1:00pm Eastern, 12:00pm Central, 11:00am Mountain, 10:00am Pacific

This Fiberside Chat will be recorded - a link to the recording will be available for one week and shared with registered attendees only.