Skip Navigation
Website Accessibility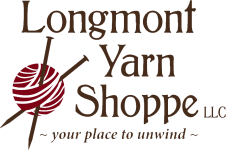 303-678-8242
454 Main St., Longmont, CO 80501
View Cart

Hours
Monday - CLOSED
Tuesday - Thursday 10- 5 pm
Friday 10 - 6 pm
Saturday 10 - 5
Sunday 12- 4 pm
View Holiday Hours
CLOSED Fiberside Chats: Melissa Leapman August 28th
Join Melissa Leapman on August 28 for a Fiberside Chat. You'll explore an unusual (but exciting!) slip stitch technique and get the chance to see what's new with one of America's most prolific designers and authors. There is an opportunity for some hands on experience with the Slip Stitch Technique. Come to the chat prepared with a small bit of homework and you can knit along with Melissa during the chat.

Those who would like to learn the technique should do a teensy bit of homework so everyone's ready at the same time:

With smooth worsted weight yarn and appropriate size knitting needles, cast on 23 stitches. Work K1P1 Rib for 1", then knit one row and purl one row. Slip stitches onto a holder with the yarn still attached.
Supplies: Printed handout ready to go, one homework piece with the yarn still attached; additional worsted weight yarn in a sharply contrasting color; appropriate size knitting needles; sticky note.
Bio: With over 1250 designs in print, Melissa Leapman is one of the most widely-published American knit and crochet designers at work today. She's worked with leading ready-to-wear design houses and is the author of several bestselling knit and crochet books including The Knit Stitch Pattern Handbook, Mastering Color Knitting, 6000+ Pullover Possibilities, Knitting the Perfect Fit, and most recently, Knitting Modular Shawls. She is a sought-out speaker and teacher at national and international yarn events such as Vogue Knitting Live and her popular annual knitting/crocheting cruises. Leapman lives in New York City.

This is a one time live zoom event on Friday August 28th at 6:30 Eastern, 5:30 Central, 4:30 MT, 3:30 Pacific