Skip Navigation
Website Accessibility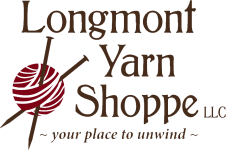 303-678-8242
454 Main St., Longmont, CO 80501
View Cart

Hours
Monday - CLOSED
Tuesday - Thursday 10- 5 pm
Friday 10 - 6 pm
Saturday 10 - 5
Sunday 12- 4 pm
View Holiday Hours
CLOSED Fiberside Chats: Melissa Leapman July 24th
CLOSED Fiberside Chats: Melissa Leapman July 24th
Shop:

Bella Filati Luxury Yarns
---
Shop:

The Studio Knitting & Needlepoint
---
Shop:

3 Kittens Needle Arts
---
---
---
Shop:

The Yarn Store at Nob Hill
---
---
---
---
Shop:

String Theory Yarn Company
---
---
Shop:

Hill Country Weavers
---
---
---
---
---
---
---
---
---
---
Shop:

Four Purls Yarn Shop
---
Shop:

Harps & Thistles Yarn Emporium
---
---
Shop:

Needlefish Yarns of Venice
---
---
---
This item is not available for purchase online. Please call 303-678-8242 to order.
Do you want to learn the secrets of knitting reversible cables? Melissa Leapman will be back at Fiberside Chats to teach us another awesome technique! In one fun-filled hour, you'll amaze yourself--and everyone you know!--with a fabric that has completely different cables on each side. No sorcery required!
There is however, a little homework required to knit along with Melissa!
With a light-colored worsted weight yarn and size 8 needles, CO 30 sts. Row 1 (RS): Slip the first 2 sts purlwise with the yarn in the back, p1, [k2, p2] 6 times, k1, p2. Repeat Row 1 until the piece measures approximately 1". Slip sts onto holder with the yarn still attached.
Supplies to have on hand:
Homework swatch; appropriate size needles; open ring stitch marker; 2 double-pointed needles, US size 5 or 6; sticky notes.



With over 1250 designs in print, Melissa Leapman is one of the most widely-published American knit and crochet designers at work today. She's worked with leading ready-to-wear design houses and is the author of several bestselling knit and crochet books including The Knit Stitch Pattern Handbook, Mastering Color Knitting, 6000+ Pullover Possibilities, Knitting the Perfect Fit, Melissa Leapman's Indispensable Crochet Stitch Collection, and most recently, Knitting Modular Shawls. She is a sought-out speaker and teacher at national and international yarn events such as Vogue Knitting Live. She lives in New York City.


This is a one-time live Zoom Event on Saturday, July 24th at 4:00pm Eastern, 3:00pm Central, 2:00pm Mountain, 1:00pm Pacific.