Skip Navigation
Website Accessibility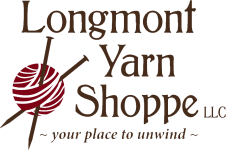 303-678-8242
454 Main St., Longmont, CO 80501
View Cart

Hours
Monday - CLOSED
Tuesday - Thursday 10- 5 pm
Friday 10 - 6 pm
Saturday 10 - 5
Sunday 12- 4 pm
View Holiday Hours
CLOSED Fiberside Chats: Stephen West September 10, 2023
CLOSED Fiberside Chats: Stephen West September 10, 2023
Shop:

Longmont Yarn Shoppe
---
Shop:

Bella Filati Luxury Yarns
---
Shop:

The Studio Knitting & Needlepoint
---
Shop:

3 Kittens Needle Arts
---
---
Shop:

The Yarn Store at Nob Hill
---
---
Shop:

Yarniversity by River City Yarns
---
---
Shop:

String Theory Yarn Company
---
---
Shop:

Hill Country Weavers
---
---
---
---
---
---
---
Shop:

Four Purls Yarn Shop
---
Shop:

Harps & Thistles Yarn Emporium
---
---
---
---
---
---
---
---
Shop:

Mother of Purl Yarn Shop
---
---
---
---
Shop:

Center of the Yarniverse
---
---
---
---
Shop:

Southern Twist Yarns
---
Shop:

Knit and Stitch boutique
---
---
---
Shop:

Low Country Shrimp and Knits
This item is not available for purchase online. Please call 303-678-8242 to order.
Please scroll through the list to find your LYS, choose quantity of people attending (1 or more!), Add to Cart and checkout.
Stephen West's Colorful MKAL World!
Join Stephen for a colorful presentation of his Mystery Shawls! The Westknits Mystery Knit Along is approaching its 14th shawl this year and each MKAL presents a beautiful new design with fun stitches and color play. Stephen will share his design process for the mystery shawls as we learn all about the Mystery history of Westknits MKAL's (mystery knit alongs). Grab your knitting and enjoy this engaging and colorful presentation!
Stephen West's shawl designs and innovative use of color have helped him become an internationally recognized and respected designer.
Stephen was born and raised in Tulsa, Oklahoma. He studied dance at the University of Illinois, where he encountered his first local yarn store, Klose Knit in Urbana. The creative atmosphere of that local shop spurred Stephen to start designing patterns, and he was soon featured in Knitty's fall 2009 issue with his Colonnade Shawl. Not long after, he moved to Amsterdam, publishing more patterns and launching a series of pattern books under the name Westknits. He continues to produce pattern books and hosts several online knit-alongs each year. His simple, clean, architectural designs have now been knitted by thousands of knitters all around the world.
Stephen has taught workshops throughout the United States and internationally in Finland, Denmark, Germany, Italy, France, Israel, Iceland, UK, and Amsterdam where he co-owns Stephen & Penelope, a yarn boutique in the city center. In 2019 Stephen and his business partner Malia Mae Joseph realized a long-held dream by launching their first yarn brand, West Wool.
This is a live Zoom Event on Sunday, September 10th at 1:00pm Eastern, 12:00pm Central, 11:00am Mountain, 10:00am Pacific, 7:00pm CEST

This Fiberside Chat will be recorded - a link to the recording will be available for one week and shared with registered attendees only.