Skip Navigation
Website Accessibility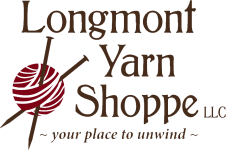 303-678-8242
454 Main St., Longmont, CO 80501
View Cart

Hours
Monday - CLOSED
Tuesday - Thursday 10- 5 pm
Friday 10 - 6 pm
Saturday 10 - 5
Sunday 12- 4 pm
View Holiday Hours
CLOSED: Fiberside Chats: Lotta Löthgren September 24th, 2023
CLOSED: Fiberside Chats: Lotta Löthgren September 24th, 2023
Shop:

Longmont Yarn Shoppe
---
Shop:

Bella Filati Luxury Yarns
---
Shop:

The Studio Knitting & Needlepoint
---
Shop:

3 Kittens Needle Arts
---
---
Shop:

The Yarn Store at Nob Hill
---
---
Shop:

Yarniversity by River City Yarns
---
---
Shop:

String Theory Yarn Company
---
---
Shop:

Hill Country Weavers
---
---
---
---
---
---
Shop:

Four Purls Yarn Shop
---
Shop:

Harps & Thistles Yarn Emporium
---
---
---
---
---
---
---
---
Shop:

Mother of Purl Yarn Shop
---
---
---
---
Shop:

Center of the Yarniverse
---
---
---
---
Shop:

Southern Twist Yarns
---
Shop:

Knit and Stitch boutique
---
---
---
Shop:

Low Country Shrimp and Knits
---
This item is not available for purchase online. Please call 303-678-8242 to order.
Please scroll through the list to find your LYS, choose quantity of people attending (1 or more!), Add to Cart and checkout.
A Virtual Visit to Sweden with Lotta Löthgren!

Lotta Löthgren will join us at our Fiberside to talk about her newly published book Observations: Knits and Essays from the Forest. The book holds a combination of knitwear designs and essays on different parts of the landscape she calls home: a small village in the southeast of Sweden, nestled among forests and lakes. Lotta will show a selection of the samples from the book and share her story of leaving a position as a university librarian to pursue a more creative career path. This is sure to be a captivating Fiberside Chat - see you there!
Lotta H Löthgren is a knitwear designer, writer and yarn-dyer living with her family, dogs and chickens in a small village in the southeast of Sweden. In between designing, dyeing and writing, she runs the yarn shop Elk market yarn since the beginning of 2020. As a designer, she loves to interpret natural elements into practical and wearable garments, perfect for her way of life. Observations is Lotta's debut book. https://www.lottahlothgren.com/
This is a live Zoom Event on Sunday, September 24th at 1:00pm Eastern, 12:00pm Central, 11:00am Mountain, 10:00am Pacific, 7:00pm CEST

This Fiberside Chat will be recorded - a link to the recording will be available for one week and shared with registered attendees only.