Skip Navigation
Website Accessibility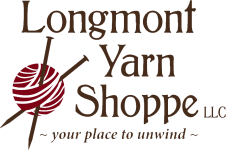 303-678-8242
454 Main St., Longmont, CO 80501
View Cart

Hours
Monday - CLOSED
Tuesday - Thursday 10- 5 pm
Friday 10 - 6 pm
Saturday 10 - 5
Sunday 12- 4 pm
View Holiday Hours
CLOSED Fiberside Chats: Marie Greene October 8, 2023
CLOSED Fiberside Chats: Marie Greene October 8, 2023
Shop:

Longmont Yarn Shoppe
---
Shop:

Bella Filati Luxury Yarns
---
Shop:

The Studio Knitting & Needlepoint
---
Shop:

3 Kittens Needle Arts
---
---
Shop:

The Yarn Store at Nob Hill
---
---
Shop:

Yarniversity by River City Yarns
---
---
Shop:

String Theory Yarn Company
---
---
Shop:

Hill Country Weavers
---
---
---
---
---
---
Shop:

Four Purls Yarn Shop
---
Shop:

Harps & Thistles Yarn Emporium
---
---
---
---
---
---
---
---
Shop:

Mother of Purl Yarn Shop
---
---
---
---
Shop:

Center of the Yarniverse
---
---
---
---
Shop:

Southern Twist Yarns
---
Shop:

Knit and Stitch boutique
---
---
---
Shop:

Low Country Shrimp and Knits
---
This item is not available for purchase online. Please call 303-678-8242 to order.
Please scroll through the list to find your LYS, choose quantity of people attending (1 or more!), Add to Cart and checkout.
The Joy of Yarn with Marie Greene

There's often a big difference between the yarn we buy and the yarn we use – and some of us have an unruly stash to show for it. Raise your hand if:
You've ever felt exasperated and uninspired by your yarn stash (same!)

You don't believe in yarn diets (ew, right?)

You have tons of yarn already, but none of it is the right yarn for your project (been there)

You've tried a zillion ways to get your yarn (and crafts!) organized, but nothing seems to work (the struggle is real)
Good news, you're not alone! Join our special guest, best-selling author and designer, Marie Greene from Olive Knits, as she shares game-changing secrets from her newest book, The Joy of Yarn. She'll share tips for mindfully investing in your "fiber real estate" and transforming a messy, overwhelming stash, into a lovingly curated "home" yarn shop that will inspire you. Say goodbye to yarn diets and say hello to The Joy of Yarn!

Marie has worked with thousands of knitters from around the world to help them make sense of how they buy, store, and use the yarn they love. Learn how to identify how well your stash is working for you so you'll have just what you need for those emergency Friday night cast-ons. Best of all, Marie knows the joy of "new yarn" and why the most important part of having a stash is knowing how to curate it. With her candid, funny, and relatable style, she'll leave you feeling encouraged and inspired.

Marie Greene is an internationally known designer, author and knitting teacher. She is the founder of Olive Knits and the Knit Camp app, and the author of four (soon to be five!) books on knitting, including Seamless Knit Sweaters in 2 Weeks, and her upcoming release The Joy of Yarn. Her renegade knitting tricks, and cheerful teaching style, have helped knitters around the world knit with skill and confidence. Marie teaches the "how" AND the "why" and empowers her students with the skills to be the boss of their own knitting. You'll love her candid insights, brilliant tips and hilarious stories that will not only teach and inspire you but will keep you laughing along the way. Marie lives in the Pacific Northwest with her husband, and three fur-babies, Greta, Opal and Josie.
This is a live Zoom Event on Sunday, October 8th at 1:00pm Eastern, 12:00pm Central, 11:00am Mountain, 10:00am Pacific

This Fiberside Chat will be recorded - a link to the recording will be available for one week and shared with registered attendees only.