Skip Navigation
Website Accessibility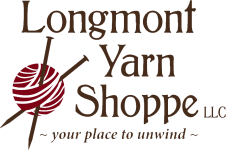 303-678-8242
454 Main St., Longmont, CO 80501
View Cart

Hours
Monday - CLOSED
Tuesday - Thursday 10- 5 pm
Friday 10 - 6 pm
Saturday 10 - 5
Sunday 12- 4 pm
View Holiday Hours
Fiberside Chats: Nancy Bates December 3, 2023
Fiberside Chats: Nancy Bates December 3, 2023
Shop:

Longmont Yarn Shoppe
---
Shop:

Bella Filati Luxury Yarns
---
Shop:

The Studio Knitting & Needlepoint
---
Shop:

3 Kittens Needle Arts
---
---
Shop:

The Yarn Store at Nob Hill
---
---
Shop:

Yarniversity by River City Yarns
---
---
Shop:

String Theory Yarn Company
---
---
Shop:

Hill Country Weavers
---
---
---
---
---
---
Shop:

Four Purls Yarn Shop
---
Shop:

Harps & Thistles Yarn Emporium
---
---
---
---
---
---
---
---
Shop:

Mother of Purl Yarn Shop
---
---
---
---
Shop:

Center of the Yarniverse
---
---
---
---
Shop:

Southern Twist Yarns
---
Shop:

Knit and Stitch boutique
---
---
---
Shop:

Low Country Shrimp and Knits
---
This item is not available for purchase online. Please call 303-678-8242 to order.
Please scroll through the list to find your LYS, choose quantity of people attending (1 or more!), Add to Cart and checkout.
Knitting California and projects that remind us of our Home!
Join hat designer and author Nancy Bates (of Knitting the National Parks) as we talk about her newest book Knitting California! She'll share the inspiration, and sometimes challenges, that went into designing hats that capture the spirit of California but still speak to everyone. We'll talk about color and texture and the joy of taking an existing design and turning it into a personalized project that reminds you of your home. We'll even touch on hat design basics for those of you with an idea just waiting for a place to start. Find out where Nancy's next design journey will take her as we relax and share a mutual love of beautiful places and beautiful yarn.
Originally from Canada, Nancy grew up in the sprawling suburbs of Southern California with her parents and eight siblings. From exploring the nearby hillsides as a child to discovering new national parks as an adult, Nancy continues to draw design inspiration from nature and the world around her. Her other passions include crochet, embroidery, cross stitch, painting, hiking, and outdoor cooking.
This is a live Zoom Event on Sunday, December 3rd at 2:00pm Eastern, 1:00pm Central, 12:00pm Mountain, 11:00am Pacific

This Fiberside Chat will be recorded - a link to the recording will be available for one week and shared with registered attendees only.