Skip Navigation
Website Accessibility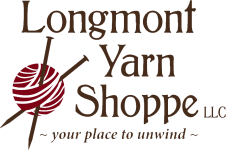 303-678-8242
454 Main St., Longmont, CO 80501
View Cart

Hours
Monday - CLOSED
Tuesday - Thursday 10- 5 pm
Friday 10 - 6 pm
Saturday 10 - 5
Sunday 12- 4 pm
View Holiday Hours
Fiberside Chats: Vawn Corrigan December 17, 2023
Fiberside Chats: Vawn Corrigan December 17, 2023
Shop:

Longmont Yarn Shoppe
---
Shop:

Bella Filati Luxury Yarns
---
Shop:

The Studio Knitting & Needlepoint
---
Shop:

3 Kittens Needle Arts
---
---
Shop:

The Yarn Store at Nob Hill
---
---
Shop:

Yarniversity by River City Yarns
---
---
Shop:

String Theory Yarn Company
---
---
Shop:

Hill Country Weavers
---
---
---
---
---
---
Shop:

Four Purls Yarn Shop
---
Shop:

Harps & Thistles Yarn Emporium
---
---
---
---
---
---
---
---
Shop:

Mother of Purl Yarn Shop
---
---
---
---
Shop:

Center of the Yarniverse
---
---
---
---
Shop:

Southern Twist Yarns
---
Shop:

Knit and Stitch boutique
---
---
---
Shop:

Low Country Shrimp and Knits
---
Please scroll through the list to find your LYS, choose quantity of people attending (1 or more!), Add to Cart and checkout.
Discover Ireland's Rich Textile Heritage!
Embark on a captivating journey through Ireland's rich textile heritage. Join renowned textile historian and author Vawn Corrigan as she reveals the secrets of the ancient wool trade, intricate lacemaking, and iconic Aran knit that have shaped Irish communities for centuries. Through vibrant imagery and compelling storytelling, prepare to immerse yourself in the enduring beauty and sustainability of Irish textiles and be inspired to become a part of this timeless tradition. Discover Ireland's textile roots today.
Vawn Corrigan is a Dublin-based writer and editor. She is the author of many historic, craft and textile writings and her work on textiles has appeared in Selvedge Magazine, Ireland of the Welcomes, Irish Arts Review and many more publications. Vawn's two textile heritage books, Irish Aran and Irish Tweed, are explorations of the cultural significance of knit and weaving in Ireland.
This is a live Zoom Event on Sunday, December 17th at 1:00pm Eastern, 12:00pm Central, 11:00am Mountain, 10:00am Pacific, 6:00pm GMT

This Fiberside Chat will be recorded - a link to the recording will be available for one week and shared with registered attendees only.