Skip Navigation
Website Accessibility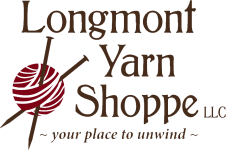 303-678-8242
454 Main St., Longmont, CO 80501
View Cart

Hours
Monday - CLOSED
Tuesday - Thursday 10- 5 pm
Friday 10 - 6 pm
Saturday 10 - 5
Sunday 12- 4 pm
View Holiday Hours
CLOSED Fiberside Chats: Stephanie Pearl-McPhee October 23, 2022
CLOSED Fiberside Chats: Stephanie Pearl-McPhee October 23, 2022
Shop:

Longmont Yarn Shoppe
---
Shop:

Bella Filati Luxury Yarns
---
Shop:

The Studio Knitting & Needlepoint
---
Shop:

3 Kittens Needle Arts
---
---
---
Shop:

The Yarn Store at Nob Hill
---
---
---
---
Shop:

String Theory Yarn Company
---
---
Shop:

Hill Country Weavers
---
---
---
---
---
---
---
---
---
Shop:

Four Purls Yarn Shop
---
Shop:

Harps & Thistles Yarn Emporium
---
---
---
---
---
---
---
---
Shop:

Mother of Purl Yarn Shop
---
---
---
---
Shop:

Center of the Yarniverse
---
---
This item is not available for purchase online. Please call 303-678-8242 to order.
"Knitting - Strange and True Facts, History and Stories."

So, some mirror neurons, stilts, a red pair of stockings and the truth about video games go into the French Revolution and… well, even I can't pretend that's the set up for a good joke, but when you join me for our hour together at Fiberside Chats, I'll tell you what they have in common. (Hint: It's knitting, and everything about it that is strange but true and it's going to be a lot of fun.)

Stephanie Pearl-McPhee is the New York Times Bestselling author of eight books, seven of which have a lot to do with knitting. (The eighth is lighter in the yarn department, but is still funny.) She's been knitting for more than forty-five years, and is also the author of the popular and long lived blog "Yarn Harlot" and part of the magic at Strung Along Retreats for knitters. Stephanie loves to teach about knitting and thinks that most people would be surprised how important she thinks it is. She's an avid grandmother, can drive a standard, and has owned two cats in a row that don't care much for her. Stephanie lives in an untidy, wool filled house in Toronto, Canada.
This is a live Zoom Event on Sunday, October 23rd at 1:00pm Eastern, 12:00pm Central, 11:00am Mountain, 10:00am Pacific.

This Fiberside Chat will be recorded - a link to the recording will be available for one week and shared with registered attendees only.